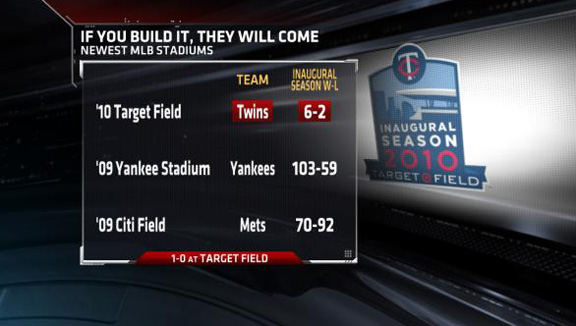 ON TARGET: New digs for the Twins in 2010. Mixed results for new parks last season. The Mets were a disappointing 70-92 in their first season at Citi Field. The Yankees won 103 games and the World Series in their first season at the new Yankee Stadium. The Twins get to 6-2 this season after winning their opener at Target Field.
Game Recap | Box Score | Highlight
After the jump, find out which three MLB stadiums share a ballpark with a professional football teams, inside David Ortiz and Albert Pujols' amazing numbers and Lakers/Thunder, Magic/Bobcats NBA playoff previews.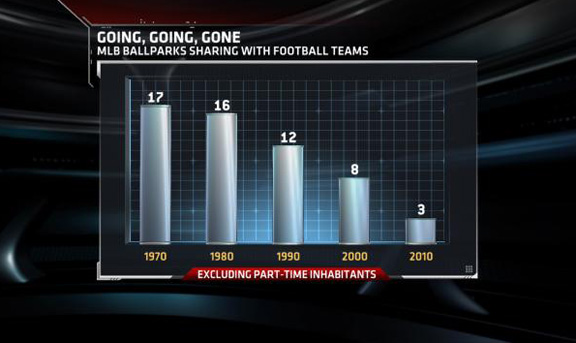 AND THEN THERE WERE 3: With the opening of Target Field, and the Vikings moving to a new stadium, only 3 MLB teams share their home park with a pro football team - the Blue Jays, Athletics, and Marlins. That continues a downward trend from multi-purpose stadiums. In 1970, 17 of 24 MLB teams shared stadiums including the Yankees, Tigers, and Cubs.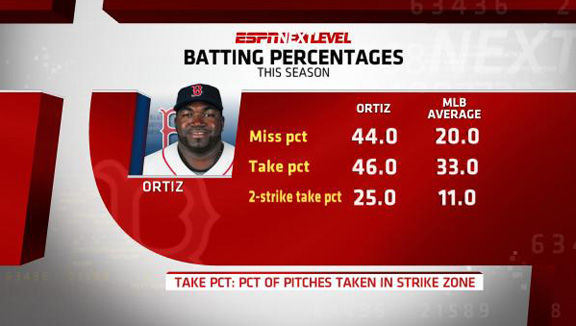 TAKING YOU TO THE NEXT LEVEL (BIG PAPI): The numbers tell a grim and disturbing story for David Ortiz this season. He's missed 44 percent of his swings this season, more than double the league average. Take percent is the percent of pitches taken in the strike zone, and his 46 percent is much worse than the league average. He is currently batting .136 with 0 HR and 2 RBI. Ortiz has struck out eight times in his last nine at-bats, following his four-K day in Sunday's win over the Royals.
TRIPLE THREAT: At the other end of the spectrum, not only has Albert Pujols been extremely productive this season, he's out-homered the entire Astros squad by 3 in 2010. Pujols also has 2 more RBI, all of this coming in 211 fewer at bats. He is batting .407. Even more impressive about his line on Monday is that he had a couple of hits -- including the homer -- off of Astros starter Wandy Rodriguez after entering the game 5-for-31 in his career against him.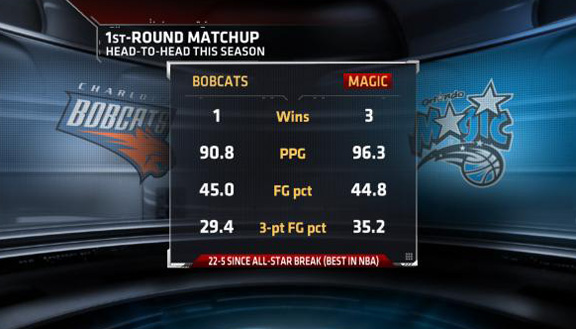 ADVANTAGE MAGIC: The Magic took 3 of 4 in the season series with the Bobcats. Charlotte struggled on the offensive end against Orlando, shooting just over 29 pct from 3, that is the lowest 3-pt FG pct Charlotte has ever shot in a season series vs Orlando. The Magic have posted a 22-5 record since the All-Star break which is the best record in the NBA in that span.
THUNDER HEADED TO LOS ANGELES: The Thunder's loss means they get the 8th seed and the Lakers in the first round of the playoffs. LA won three of their four meetings this season. However, the Thunder took the last meeting at home by 16 points and 2 of the 3 Lakers wins were by 3 points each.