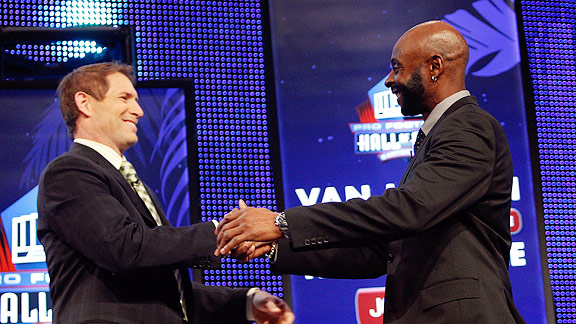 Chris Graythen/Getty Images
"I don't want to shake your hand, Steve. I want my 9-iron."
Since he retired in 2006, Jerry Rice has been gradually easing into his retirement. First, there was his appearance on Dancing with the Stars, of which Rice remembers, "I got beat by a little short guy, Drew Lachey." Then, there was his role as Hal Gore in the 2009 direct-to-video not-quite-classic "Without a Paddle: Nature's Calling." And now, Rice is attempting a more conventional second act in his golden years. Arguably the best wide receiver ever is now a professional golfer.
Rice is making his pro golf debut today on the Nationwide Tour at the Fresh Express Classic. The tournament will be played at TPC Stonebrae in California's Bay Area, just down the road from where Rice spent his glory days with the 49ers. Rice insists that his participation isn't a publicity stunt and that he's playing to win. In fact, Rice has stated that he's been up at night visualizing his strategy for each hole. With this level of dedication, Rice may finally find success in his retirement.
Of course, though Rice is playing with a sponsor's exemption, he is still hoping to make his mark. So we've tossed around a few ideas here and come up with a few ways in which Rice can distinguish himself from the field:
1. To get the most out of his game, Rice will need a stud QB out there with him. It only seems fair that he have Joe Montana caddy for the first nine holes and Steve Young pick up the bag after the turn.
2. There's no need for Rice to buy new equipment - he can just stick with his receiver gloves and football cleats. Extra bonus: the cleats will make the greens extra difficult for the group that plays behind him on the course.
3. Continuing with the equipment theme, Rice should consider ushering in a new era of golf apparel. That is, one with jersey numbers on the back of each golfer's polos. One suggestion, though. Rice should avoid number 80 because people will mistake that for his score. Instead, Rice should stick with number 19, which he wore in the Broncos training camp before the 2005 season. Because if golfers love one thing, it's any reference to the 19th hole.
4. On the course, when Rice is standing over a pressure-packed putt, it might help to simply remember what it's like to catch a pass over the middle with a linebacker closing in. If that doesn't relax Rice, then he could always just picture Drew Lachey in the same scenario.
5. If Rice ends up finding success on the Nationwide Tour, he should follow golf's greats into the next logical career achievement: course design. But what makes a Jerry Rice course different from the rest? Well, how about yardage markers painted on the fairway every 10 yards and greens painted like end zones? Seriously, why doesn't this already exist?