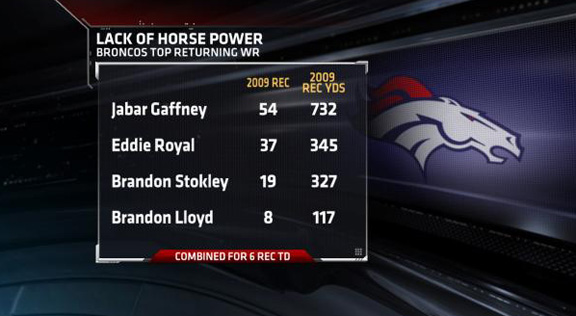 WHO'S GOT NEXT?: The Broncos depth chart at wide receiver is thin as their returning receptions leader is Jabar Gaffney, a career 2nd or even 3rd receiver. Brandon Marshall had 47 more receptions than anyone else on Denver's roster last season. That leaves a glaring hole on the outside. Looks like Denver will be drafting a WR at some point in the draft.
MORE: Marshall headed for Miami | Adam Schefter on SC: Reports trade of Brandon Marshall to the Dolphins
After the jump, find out who leads the American League in strikeouts, why overcoming a 5-run deficit is nothing new for the Tigers, and why its been windy city woes for the Chicago Bulls.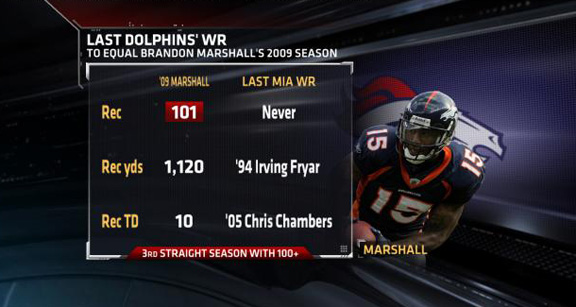 FIN-TASTIC: Last Season Brandon Marshall had 101 receptions for 1,120 yards and 10 TD. No Dolphin has ever had more than 90 receptions in a season and the last to equal his total receiving yards was Irving Fryer 16 seasons ago.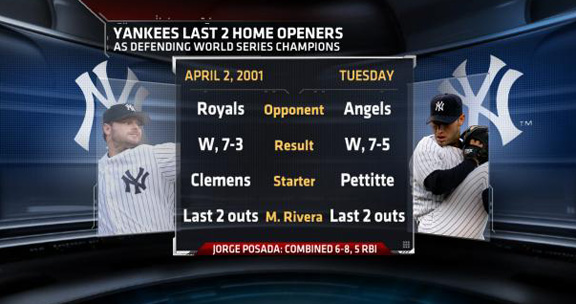 HOME SWEET HOME: The last time the Yanks opened at home after winning a World Series title, Roger Clemens was on the mound, but the rest of the game played out similarly - the Yanks offense scored seven runs, Jorge Posada was the offensive lynch-pin and Mariano Rivera came in to get the last two outs.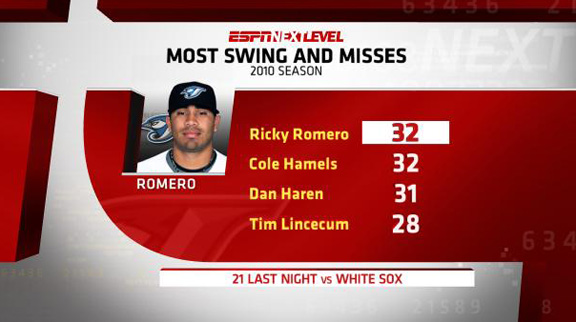 SWING AND A MISS: Ricky Romero leads the American League with 16 strikeouts though his first two starts. He has gotten 32 swing and misses from batters this season, tied for the most in all of baseball. Romero's next start will be Sunday against the Angels.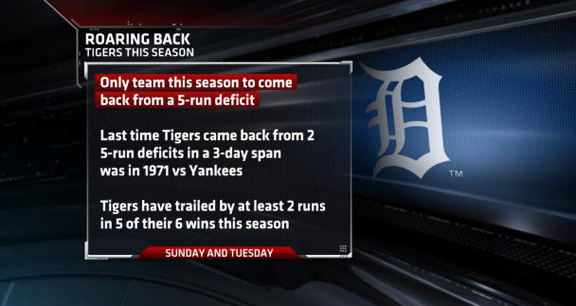 IT'S NOT OVER UNTIL IT'S OVER: The Tigers have came back from 5-run deficits Tuesday and Sunday. They're the only team so far this season to come back from a deficit that steep. The last time they had two 5-run rallies in a 3-day span was all the way back in 1971.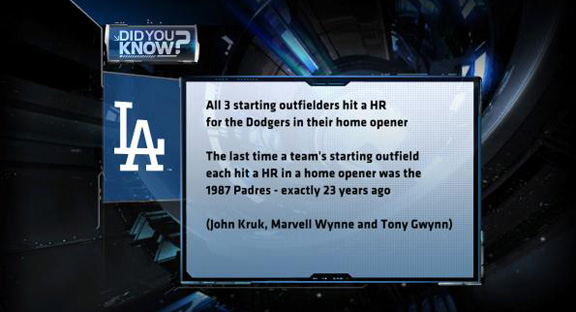 DID YOU KNOW: All three starting outfielders homered for the Dodgers in their home opener Tuesday (Ramirez, Kemp, Ethier). The last time a team's starting outfielders all homered in a home opener was exactly 23 years ago, in 1987: Padres John Kruk, Marvell Wynne and Tony Gwynn.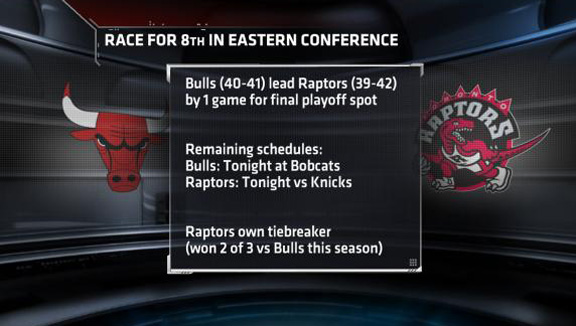 ONE SPOT LEFT FOR THE NBA PLAYOFFS: In the NBA, the Bulls own a one game lead over the Raptors and control their own destiny. If Chicago wins tonight against the Bobcats, they are in. If they lose and the Raptors beat the Knicks, the two teams will be tied and the Raptors take the spot having won 2 of 3 from Chicago this season.
WINDY CITY BLUES: The Bulls have played well recently, but could likely have avoided a late playoff race for the 8 seed if they had not lost 10 straight games in February and March. Since February 27th, Chicago is getting outscored by 4 points per game and is 9-14 in that span.