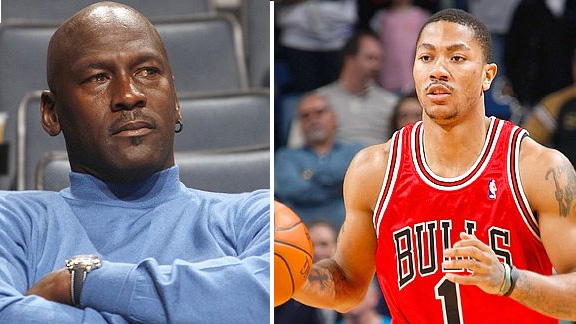 Kent Smith/NBAE/Getty Images/Layne Murdoch/Getty Images
Chicago Bulls (40-41) vs Charlotte Bobcats (43-37)
8:00 PM ET, April 14, 2010 -- Time Warner Cable Arena, Charlotte, NC
Derrick Rose can make good on his playoff guarantee by helping Chicago beat former Bulls superstar Michael Jordan's Charlotte Bobcats. The Bulls can clinch the #8 seed tonight IF they beat Michael Jordan's Charlotte Bobcats, or if the Raptors lose to New York. A Bulls win would eliminate Toronto from the eighth and final playoff spot. The Bobcats are locked in as the #7 seed and will play the #2 seed Orlando Magic in the first round of the playoffs. Toronto clinches the playoff spot with a win against New York AND a Chicago loss.
Game Preview: Bulls vs Bobcats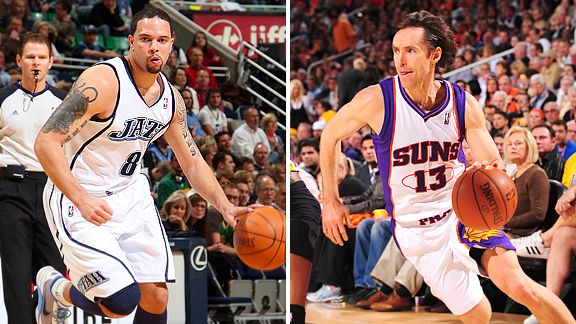 Getty Images
Phoenix Suns (53-28) vs Utah Jazz (53-28)
10:30 PM ET, April 14, 2010 -- EnergySolutions Arena, Salt Lake City, UT -- ESPN, ESPN360.com
Playoff positioning will be confirmed on the the final night of the NBA regular season. Utah can clinch its division with a win over Phoenix. The Jazz are 32-8 at home this season, but only 20-20 on the road. The Suns can finish as high as third in the West and as low as fifth. Utah can finish as high as second and as low as fifth. Steve Nash vs Deron Williams is a point-guard battle worth watching. They have gone head-to-head 14 times in their careers with each winning seven times. The Jazz are trying to win the division for the 10th time in franchise history. Eight of the previous nine have come under head coach Jerry Sloan. If the Jazz lose, the Denver Nuggets will win the division.
Game Preview: Suns vs Jazz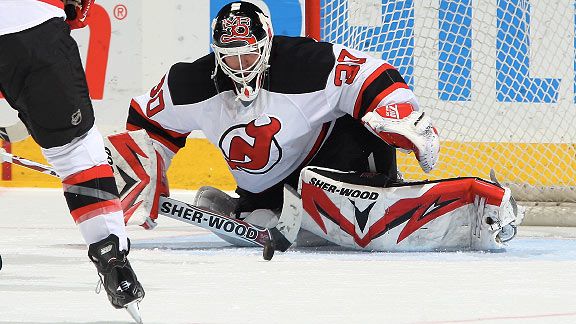 Scott Cunningham/NHLI/Getty Images
Philadelphia Flyers vs New Jersey Devils Game 1
8:00 PM ET, April 14, 2010 Prudential Center, Newark, New Jersey
This is the 4th time the two division rivals will face each other in the postseason, but the first time in which the Devils have home-ice advantage. The Flyers have lost the opener in each of their last six playoff series, the second-longest current streak of its kind in the NHL. It's hard to tell who the Devils were rooting for in Sunday's "1-game playoff" between the Rangers and Flyers. They would have faced the Canadiens had the Rangers won. Instead they get Philly, a team they struggled with compared to the other teams who don't have home-ice advantage in the Conference Quarterfinals.
Devils in 2009-10 Regular Season
Against East 5-8 Seed Teams
5. Senators----3-1-0
6. Bruins----3-0-1
7. Flyers----1-4-1
8. Canadiens----3-1-0
Game Preview: Flyers vs Devils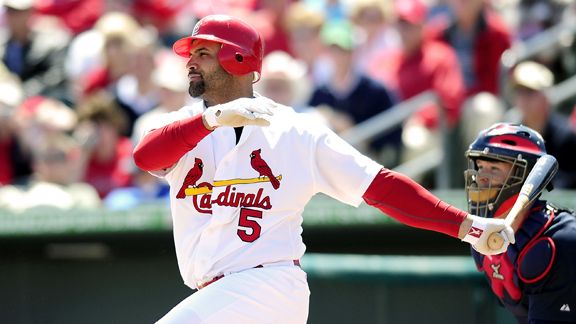 Steve Mitchell/US Presswire
Houston Astros (0-7, 0-1 away) vs. St. Louis Cardinals (5-2, 1-0 home)
8:00 PM ET, April 14, 2010 ESPN2 Busch Stadium, St. Louis, Missouri -- ESPN360.com (subject to blackout)
Houston: Brett Myers (0-0, 6.00 ERA)
St. Louis: Brad Penny (0-0, 1.29 ERA
The Astros are 0-7, the only winless team in the majors. It is their 2nd-worst start in team history, behind the 1983 squad which started 0-9. Brett Myers is looking for his first win since May 22, 2009. He is 0-1 with a 6.95 ERA (9 ER/11.2 IP) in his last 2 starts. He is 4-2 in his career vs the Cardinals in 11 starts, his best win percentage vs any team he has made at least 10 starts against. Through seven games, Pujols not only has five HRs, but he has 14 RBIs and a batting average of .407. Only two players in the post-World War II era started a season with at least five homers and 14 RBIs, and a .400 batting average, through their first seven games: Willie Mays (6 HR, 14 RBIs, .444) did it in 1964, and Dale Murphy (5 HR, 14 RBIs, .481) in 1985.
Most HR in First 10 Seasons, MLB History
Albert Pujols-----371-----2001-2010
Eddie Mathews-----370-----1952-1961
Ralph Kiner-------369-----1946-1955
Ken Griffey Jr.-----350-----1989-1998
Alex Rodriguez-----345-----1994-2003
Game Preview: Astros vs Cardinals
Note: The Elias Sports Bureau and ESPN Stats and Information group contributed to this report.