You can't hide under that hat forever, Kyle. You need to make a decision.
Kyle Singler was named the Most Outstanding Player of the Final Four after helping lead Duke to the NCAA title earlier this month, but now he has an even bigger challenge ahead of him: deciding whether or not he wants to enter this summer's NBA Draft.
Singler, who would be a senior next year if he returns to Duke, said he would take the weekend to think about it, but one thing's for sure. He doesn't want to do that whole "declare for the draft but not hire an agent so if I want to back out at the last minute, I still can" thing. Good for you, Sing.
Underclassmen have to declare for the draft by April 25, so the time is ticking away. We know when we have a difficult decision to make, a Pro/Con list really helps. So we'll start you off, Kyle. And you can finish it from here.
Entering the NBA: Pros
1. Freedom to sign endorsements
May we suggest something with Cingular Wireless? Get it, Cingular Wireless … Singler Wireless … they sound alike. What's that? They're AT&T now? Ohhh, you'll have to fight Luke Wilson for spokesman duties. That's OK. Judging by your post play, we think you could take him.
2. Opportunities to explore your other talents in the NBA
We know you like to design things, like this shield montage thing, so maybe the NBA could use your talents in designing its new logo. With all that talk on changing "The Logo" from Jerry West to MJ, perhaps David Stern and Friends could use your help in merging the two icons to form a new super logo.
3. No class means more free time
Especially in the offseason. We suggest cashing in on the fact that you're the spitting image of Paul Bettany by offering up your services as That Creepy Monk Guy's little brother in whatever "Da Vinci Code" prequel Hollywood has up its sleeve. What? You're telling us you don't see a resemblance? Come on!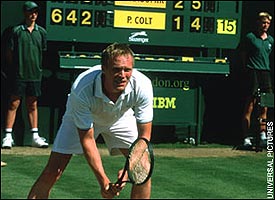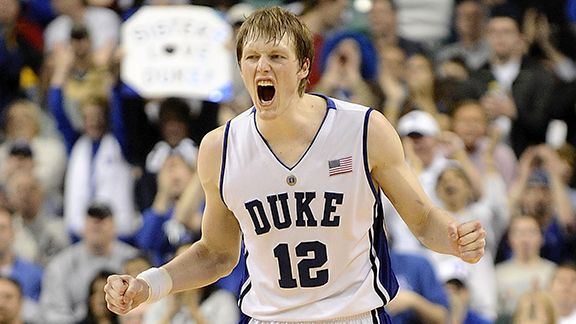 4. Remember your old friend Kevin Love?
You two dueled in the Oregon state high school basketball championships (kudos on the win, by the way), but were denied a rematch in college. Now that Love is on the Timberwolves, you'll get another shot at a Kevin-Kyle grudge match. You guys could even be like the NBA's new Larry and Magic. Kind of.
5. No craigslist for you
No more college means no more dorm rooms. Which means no more living in a 200-square-foot room with four complete strangers. Unless you want to try out for the Real World (and even then, at least you'd have a really cool fish tank or indoor fire pit or something). In which case you better hope the 76ers draft you.
Entering the NBA Draft: Cons
1. Everyone loves a college senior
If you leave Duke early, that means you'll miss Duke Senior Week. Which is not something to take lightly. If this year's schedule is any indication, you'd be missing out on having BBQ with the President AND wine and cheese with the Dean. If it was one or the other, sure. But both? That makes for one difficult decision.
2. In the real world, meals cost money
We're pretty sure you can't use your Duke Dining Points at Morton's. Or any of those classy steakhouses you'll be expected to eat at when you're an NBA player. Think about it. Dining points, per diems … when's the last time you actually paid for food? And you want to give that up a year early? Just think about it.
3. Everything tastes better when you eat it with your hands
There's only a small window of time when a human can do things like stay in his pajamas till 8 p.m., or eat Easy Mac with his hands because you have no spoons. At least, there's only a small window of time when a human can do those things without the accompaniment of deep-seeded shame and regret. And remember, should you relapse, you're not just the grownup who showed up to breakfast with "I'm an idiot" written in permanent marker across his forehead, you're the NBA PLAYER who showed up to breakfast with "I'm and idiot" written in permanent marker across his forehead.
4. What's a four-letter world for uncertainty?
The New York Times crossword puzzle is WAY harder than the one in The Chronicle. Are you ready to make that leap?
5. What if the "Iron Man" sequel isn't any good?
You'll have paid full price for it, because no more student discounts for you, Mr. NBA man. And here's a little something to keep in mind. This 3D movie trend doesn't look like it's going away any time soon. Come 2015, we're guessing the average movie ticket's going to cost somewhere in the neighborhood of $64.20. And that's the matinee price.