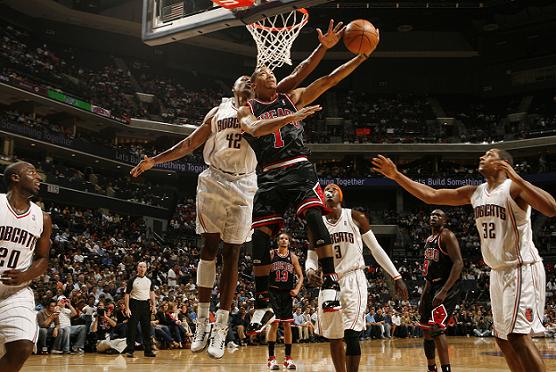 Brock Williams-Smith/Getty Images
Bulls Take 8th Seed In East - Playoff Matchups Set
With the Bulls beating the Bobcats 98-89, Chicago picks up the 8th and final playoff spot in the East and have the opportunity to face LeBron and the Cavs in the first round. Somewhat surprisingly, in their season series, the teams were split with 2 wins apiece. Take a look at how the rest of the playoff picture shapes up.
Brandon Marshall Traded To Dolphins
For the second straight year, the Broncos pull off a blockbuster deal, this time trading wide receiver Brandon Marshall to Miami for a second-round pick next Friday and an additional second-round pick in 2011. On the same day as the trade, Marshall and the Dolphins reached agreement on a four-year, $47.5 million contract extension that includes $24 million in guaranteed money.
A Fresh Start For Roethlisberger
Fresh off a new haircut, followed by a meeting with NFL Commissioner Roger Goodell yesterday, Steelers QB Ben Roethlisberger arrived at the Steelerstraining facility Wednesday for his first workout with his teammates, according to the Pittsburgh Post-Gazette. Steelers veterans have been working out together since March 29, a date coach Mike Tomlin gave them to begin those activities.
After the jump ... Jimmy Rollins heads to the DL, Kentucky picks up a prized recruit, Jerry Jones caught off-guard, a Vinny Del Negro - John Paxson altercation and is this Doc Rivers last year in Boston?
Charlie Manuel On Jimmy Rollins: "... he's hurt pretty bad."
It's official ... The Phillies are putting SS Jimmy Rollins on the DL. The former MVP strained his right calf running sprints before the club's home opener on Monday. Rollins is eligible to come back April 28th, but GM Ruben Amaro says Rollins could be out up to a month.
Urgent alert to the Big Blue Nation: Breathe easier, Brandon Knight is aboard. On the first day of college basketball's spring signing period, Kentucky won an intense recruiting sweepstakes for Knight, the nation's No. 4-rated senior. Knight said, "I just chose Kentucky because I felt it was a place that had great players, a great environment and a place where I can elevate my game."
Cowboys owner Jerry Jones may have some explaining to do after he was heard ridiculing former Cowboys coach Bill Parcells and Heisman Trophy winner Tim Tebow on Tuesday. A dimly-lit video from Deadspin.com, which shows what appears to be Jones in a social setting, revealed Jones admitting he hired Parcells to help him gain momentum to build the new Cowboys Stadium and that Jones wouldn't draft Tebow because "he'd never get on the field." There's been no comment from Jones, Parcells or the NFL.
Source: Bulls' Del Negro Aggressor, Not Paxson
Chicago Bulls coach Vinny Del Negro initiated the physical contact with executive vice president John Paxson during an altercation on March 30 a source told ESPNChicago.com. This is contrary to a Yahoo Sports report that said Paxson grabbed Del Negro by the tie, jabbed him twice in the chest and seemingly challenged him to a fight. All of this is because Del Negro exceeded the time limit set for Joakim Noah, who has been recovering from plantar fasciitisin his foot. The source also said that it wasn't the first altercation Del Negro has had with management.
The Issue Of Resting Healthy Players In the NBA
David Stern says the issue of players resting at the end of the regular season will be discussed, but he doesn't see anything coming of it. The commissioner says he is "troubled by it, because it would be our preference that healthy players play," but says the decision has always been left up to the teams. The Cleveland Cavaliers have not played LeBron James since clinching the NBA's best record. He missed his 4th straight game Wednesday, without injury.
Report: Doc Leaning Toward Leaving
While Doc Rivers insists he has yet to decide on his future, sources tell the Boston Herald that he's more likely to step away from the bench rather than return to coach the Celtics for the last year of his contract. "The one I will say is I'm committed to Boston," Rivers said. "It's either stay with the Celtics or I decide I need to stay more with the family."