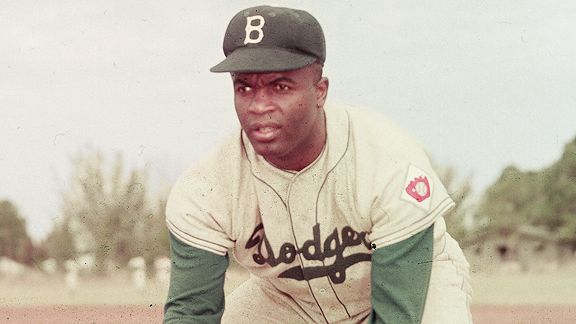 Keystone/Getty Images
Los Angeles Angels (3-6) vs New York Yankees (5-3)
7:05 PM ET, April 15, 2010 -- Yankee Stadium, New York, NY
The Angels and Yankees face each other tonight and will honor the late Jackie Robinson. Today is the 63rd anniversary of Jackie Robinson's MLB Debut (1947). All Major League clubs are commemorating Jackie Robinson Day, and the Robinson family will join MLB in a special celebration at Yankee Stadium before tonight's game. Here's to you, Jackie Robinson.
Jackie Robinson, Career Notes
* 6-time MLB All-Star
* Rookie of Year in 1947
* Won 1949 NL MVP and batting title
* Played in 6 WS, won WS with 1955 Dodgers
* Inducted to Baseball Hall of Fame in 1962
* Career .311 BA
Los Angeles: Kazmir (0-0, 0.00 ERA)
New York: Hughes (0-0, 0.00 ERA)
Game Preview: Angels vs Yankees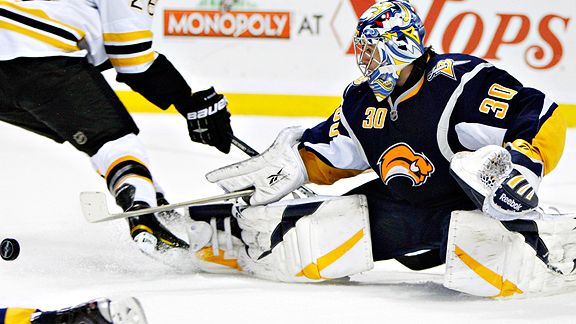 AP Photo/David Duprey
Boston Bruins vs Buffalo Sabres
7:00 PM ET, April 15, 2010 -- HSBC Arena, Buffalo, New York
Boston and Buffalo face each other tonight in a battle of top goaltenders. This should be a battle between the goalies that finished 1-2 in goals-against average in Boston's Tuukka Rask and Buffalo's Ryan Miller. This would be the first time the goalies whom finished 1-2 in the regular season in GAA faced off in the playoffs since 1999 when Ron Tugnutt of the Senators went against Dominik Hasek of the Sabres in the Eastern Conference Quarterfinals.
Game Preview: Bruins vs Sabres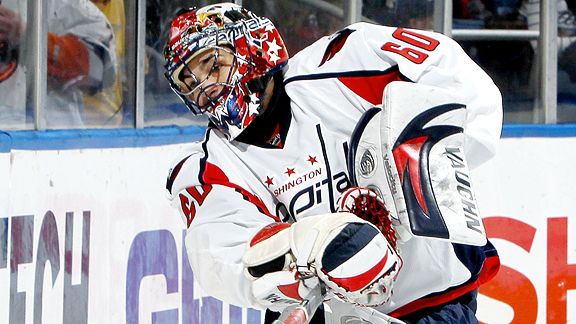 Jim McIsaac/Getty Images
Montreal Canadiens vs Washington Capitals
7:00 PM ET, April 15, 2010 -- Verizon Center, Washington, DC
Capitals coach Bruce Boudreau announced that veteran Jose Theodore will start between the pipes against his former team tonight. Theodore had a falling out in Montreal that led to his departure. Montreal and Washington both sold out every home game this season, but they are still light-years apart on hockey fanaticism and legacy. The Canadiens have 24 NHL titles; the Capitals have none and have been to the finals only once -- when they benefited from a slew of upsets that opened the Eastern Conference half of the draw in 1998.
Game Preview: Canadiens vs Capitals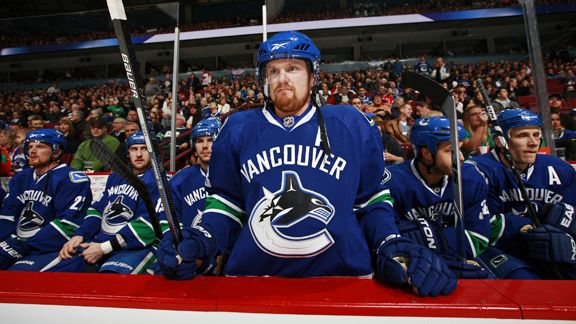 Jeff Vinnick/NHLI/Getty Images
Vancouver Canucks vs Los Angeles Kings
10:00 PM ET, April 15, 2010 -- General Motors Place, Vancouver, British Columbia, Canada
Henrik Sedin led the NHL with a team single-season record 112 points (29 G, 83 A) in 2009-10 regular season for the Canucks. The Kings are in the playoffs for the first time since 2002 and haven't won a playoff series since 2001. Henrik Sedin paced the Canucks this season with 112 points (29 goals, 83 assists), but much scrutiny has been made about his playoff numbers. Last season, Sedin managed a point per game as the Canucks advanced past the first round before being eliminated by the Blackhawks. Vancouver will be looking for Sedin's leadership instead of the player who disappeared during Canuck playoff runs in years past.
Game Preview: Canucks vs Kings
Note: The Elias Sports Bureau and ESPN Stats and Information group contributed to this report.