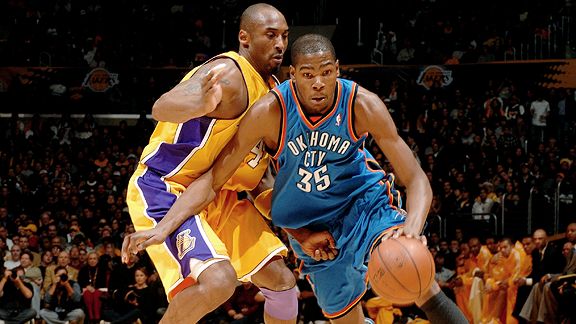 Noah Graham/NBAE/Getty Images
All eyes will be on Kevin, Kobe and the refs when the Thunder and Lakers open their series.
Now that Americans have banished thoughts of tax returns to the bowels of the accounting netherworld, it's time to relax with three consecutive nights of continuous sports action. Here's what you can look forward to:
Revenge, or at least a series tie, is a dish best served on ice.
The Flyers shocked the Devils with third period heroics while Sidney Crosby couldn't buy a shot in the Senators' upset of the Penguins. All four teams square off in game 2's tonight. Can Pittsburgh recover from the loss of home ice (7 ET)? Can Philly's Brian Boucher build on his first playoff start in eight years (7:30 ET)? Game Previews: Flyers vs Devils | Senators vs Penguins
Doc Halladay defends his new corral.
And speaking of "Philly" and "tonight," the Marlins roll into Philly only to run into the offseason's most prized trade acquisition (7:05 ET). Roy Halladay looks like he's on a mission so far on the early season. His microscopic 0.56 ERA (0.96 WHIP) and 17Ks over 16 innings pitched are only reinforcing the experts' talk about him being the NL's early Cy Young favorite.
To take the prize, however, he's going to have to wrestle it away from an equally-impressive Freak who pitches on the other coast. The Giants are paying a visit to Los Angeles with Tim Lincecum taking the mound on Saturday. The NL's two-time Cy Young champ has started off the year with a 1.29 ERA (0.71 WHIP) and 17Ks during his first two starts. The Dodgers are sending Charlie Haeger to play David to the Giants' pitching Goliath (4:10 ET). While not to be confused with this ex-Van Halen member, this videogame character or this cartoon Viking, Charlie's got some fight in him (3.86 ERA, 13K over seven innings of work). Ah California, will your the rivalries ever fail to entertain?
The "real" basketball season begins.
There will be four games on Saturday and four games on Sunday as the 2010 NBA Playoffs get underway. The most intriguing first-round matchup sees last year's regular season and finals MVP Kobe Bryant against breakout phenom (and youngest scoring champ ever) Kevin Durant (Sunday, 3 ET). The Durantula must be fired up after Phil Jackson "disrespected" him. Don't fall for it Kevin; it' s just a Zen Master Mind Trick. Meanwhile, the Spurs and Mavericks meet in each in the first round for the second year in a row, though Dallas holds the higher seed (8 ET) this time around. Is this the last time we'll see these teams with their core lineups intact?
It's a wide-open field in Ft. Worth.
NASCAR Sprint Cup Series' heads to the Samsung Mobile 500 at Texas Motor Speedway on Sunday, where there are only two repeat winners (Jeff Burton and Carl Edwards). Will one of Hendrick Motorsports' drivers (Jimmie Johnson, who won in '97, and Jeff Gordon, '09's victor) be the next (2PM ET)?