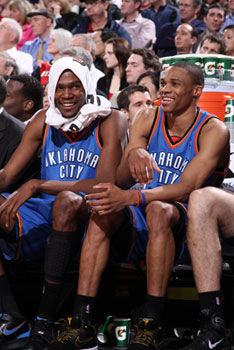 Sam Forencich/Getty Images
This is from Gatorade's "I'm the scoring champ and I can wear whatever I want" collection.
This week, the NBA set its playoff matchups (and crowned a new scoring champion, to boot), the NHL postseason warmed up, and a new dolphin came to play in Miami's pool. What do all these things have in common? The number 6 (cue creepy music!).
6 – times in the last seven playoff years that the defending Stanley Cup champion either lost its postseason opener or did not qualify for the playoffs. The Penguins became the sixth team after losing Game 1 of their first-round playoff series to the Senators Wednesday night, 5-4.
6th – place on the NBA all-time single-season free throw list now occupied by Kevin Durant, who finished the season with 756. Durant, who scored 31 points in the season finale Wednesday night, also became the youngest scoring title winner in NBA history.
6 – number of wide receivers (of 19 total) that have started at wide receiver for the Dolphins AND started at least 16 games since the 2000 season. New Dolphin Brandon Marshall – who was traded for a second-round pick this week – will try to break that trend.
6th – Man of the Year, an award that looks like it will soon go to Jamal Crawford. At least according to 18 out of our 20 NBA analysts. The two dissenters both picked Manu Ginobli.
6 – Technical fouls tallied in the Celtics-Bulls game Tuesday, one Chicago had to win to secure the No. 8 seed in the East. There were also 49 personal fouls, one flagrant foul and one ejection. The teams could face each other in the second round of the playoffs if the Bulls beat the Cavs and the Celtics beat the Heat in the first round. Hey, stranger things have happened.
6 –The cursed seed in the NBA playoffs, apparently. The Bucks, the No. 6 seed in the Eastern Conference, lost center Andrew Bogut to a scary hard fall against the Suns April 3 that left him with a dislocated elbow and sprained wrist. The Trail Blazers, the No. 6 seed in the Western Conference, lost Brandon Roy to a torn meniscus in a game against Los Angeles April 11.