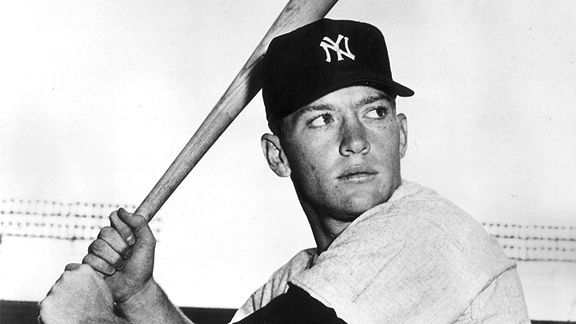 Hulton Archive/Getty Images
Mickey Mantle is victorious in the battle of the Mick vs. the Stobby.
April 17, 1953: A 21-year-old slugger for the New York Yankees steps up to the plate in the fifth inning to face lefty Chuck Stobbs of the Washington Senators in front of 4,206 fans at Griffith Stadium. At first, the at-bat begins like all others before and after, but what happens next is singular. Mickey Mantle blasts a 565-foot home run, arguably the longest in baseball history.
Mantle's shot easily clears the wall in left-center (391 feet), sails over the 55-foot high bleachers, caroms off a National Bohemian beer sign (460 feet), and continues out of sight. Down on the street and far away from the stadium, a 10-year-old boy picks up the ball - and then quickly sells it to Arthur Patterson of the Yankees' front office for mere pocket change. And with that, a legend is born.
While some, like the Senators' one-time president Clark Griffith, insist that Mantle's homer "was the longest home run ever hit in the history of baseball," others aren't so sure. In the end, whether you consider yourself a believer or not, at least one thing's certain - Stobbs must have immediately had second thoughts about throwing a belt-high fastball to the Mick.