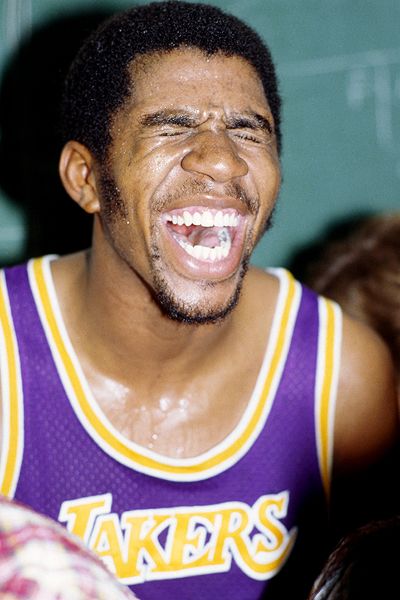 Getty Images
You better have a hiding spot, because Magic is going to open his eyes any second now.
Wide receiver Sinorice Moss was signed to a one-year tender by the Giants earlier this week, and that got us thinking: how many people do we know with the last name Moss (like, three)? And how many of those people are wide receivers in the NFL (like, three)? OK, we know, two are brothers. But still, it begs the question: if we had to pick the most dominant last name in sports, what would it be?
Sadly, we don't think the NFL Mosses stack up against some of the other superstars out there when you start looking at all-time lists across all sports. So who does? Obviously, the most common last names are going to have bigger pools to pick from. But of the big ones, which group reps their surname the best? Let's take a look.
Honorable Mention – "Miller"
The Millers may not have the most dominant surname in sports, but they do represent at the Olympics. For that they can thank gymnast Shannon, a two-time Olympian with seven Olympic medals (five from 1992 and two gold in '96). And let's not forget Winter Olympians Bode (five Olympic medals) and Ryan (silver medalist and MVP of the hockey tournament in Vancouver). Even famous hoopster siblings Reggie and Cheryl got it done on the international scene, Reggie as a member of the gold medal-winning men's Olympic basketball team in 1996 and Cheryl on the women's hoops team that took home gold at the 1984 Summer Games.
Third Place – "Williams"
Anytime you can make an argument (we didn't say win, we said make) that two people are the best in the history of their sport, you have a solid group. So thanks in large part to baseball Hall of Famer Ted and tennis superstar Serena, the Williams's of the world earn a spot in the top three. Ted is a 17-time MLB All-Star, two-time MVP, six-time batting champ and two-time Triple Crown winner. Serena, who is currently ranked No. 1 in the world, has won 12 Grand Slam titles, including five Australian Opens (an open era record).
Add in Serena's co-star Venus (nine Grand Slam titles), Yankee great Bernie (five-time MLB All-Star and four-time World Series champ), and history-making quarterback Doug (the first black quarterback to play in a Super Bowl and MVP of Super Bowl XXII) and you have a solid family of sports stars.
Second Place – "Robinson"
Four Hall of Famers make for one serious contender of a surname. And while the Robinsons might not be our No. 1, they might just be the most groundbreaking last name in sports. It all starts with Jackie, of course, the man who broke the Major League Baseball color barrier and went on to have a Hall of Famer career.
Then there's Frank, a Hall of Fame baseball player in his own right (12-time All-Star, AL and NL MVP) who was also the first African American manager in Major League history. And Sugar Ray (OK his "real" name is Walker Smith Jr but who calls him that?), a Hall of Fame Boxer who is thought to be the first African American to become a star outside of the sporting arena. All of whom make for a pretty intimidating bunch. Oh yeah, and NBA Hall of Famer David Robinson's not bad either.
First Place – "Johnson"
Yes, we get it. Johnson is pretty much the most popular last name in the English-speaking world so there are bound to be some that float to the top of the sporting world. Still. Magic (NBA Hall of Famer), Jimmie (four-time NASCAR Sprint Cup champion) and Walter (MLB Hall of Fame pitcher) – all arguable top-five all-time in their respective sports – alone would do it. Then throw in three Olympic gold medalists in track stars Rafer and Michael and gymnast Shawn, five-time Cy Young Award winner in Randy, and a history-making boxer in Jack and, well, we have a winner.
Jimmie ('09), Michael ('96), and Rafer ('60) were all named AP Sportsmen of the year - Jimmie after winning his fourth straight cup (he was the first to accomplish that feat), Michael after winning two golds in the '96 Olympics (he has four for his career) and Rafer after winning the gold in the decathlon at the '60 Games. Shawn earned a gold on the balance beam at the '08 Games as well as three silvers (team, all-around and floor). Magic is a 12-time All-Star, five-time NBA champ and three-time MVP while Walter was a two-time MVP and the MLB's all-time leader in shutouts. And Jack, who is one of five Johnsons on ESPN SportsCentury's list of top North American Athletes of the Century, was the first black man to hold the world heavyweight championship.