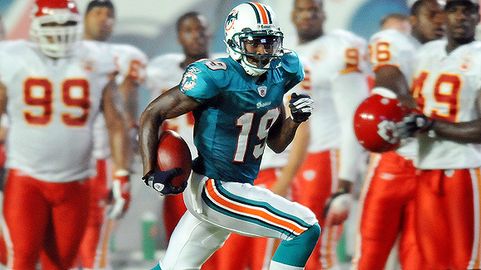 Steve Mitchell/US Presswire
Dolphins Trade WR Ted Ginn Jr. To 49ers
The Miami Dolphins have traded wide receiver Ted Ginn Jr. to the San Francisco 49ers for a 5th-round pick in this year's draft. Ted Ginn definitely struggled as a receiver with the Dolphins. Despite being the 2nd receiver taken in the 2007 NFL draft, he averaged less than 43 catches per season and only had 5 receiving touchdowns in 3 seasons.
Georgia Cop In Roethlisberger Case Resigns
The Georgia police officer who took the first report from the woman who accused Ben Roethlisberger of sexual assault has resigned. Sgt. Jerry Blash resigned Wednesday, a day before the Georgia Bureau of Investigation made public all documents related to its investigation. Prosecutors announced earlier this week that they are not charging Roethlisberger in the incident.
Boozer & Kirilenko Injury News
Carlos Boozer told ESPN's Doug Gottlieb that he WILL play in game 1 against the Nuggets. Boozer has a strained muscle in his rib cage and did not play Wednesday when the Jazz closed out the regular season. The team says forward Andrei Kirilenko is out for two weeks after aggravating his strained left calf during a workout Thursday. An MRI showed a third strain in his calf, which kept Kirilenko out most of the last month.
After the jump ... NBA salary cap changing, Chan Ho Park on DL, Mike Cameron back to Boston, Jerry Jones talking and surgery for Bruce Gradkowski.
NBA Salary-Cap Projection Higher Than Thought
The New York Knicks and other teams hoarding salary-cap space for this summer's free-agent market received surprisingly good news Friday when they were told at the league's board of governors meeting that the 2010-11 cap is projected to be $56.1 million. That figure was $2 million to $3 million more than most teams had been expecting and $5.7 million more than the league forecast last July as a worst-case scenario.
The New York Yankees have placed reliever Chan Ho Park on the 15-day disabled list with an injured right hamstring. Park was examined by team physician Christopher Ahmad on Friday and an MRI revealed a low-level strain. The 36-year-old right-hander is expected to be OK in a couple days but the Yankees decided to be cautious and put him on the DL.
Red Sox center fielder Mike Cameron is headed back to Boston, a day after the team left Minnesota following a loss to the Twins. Cameron will undergo further examination for what's been initially diagnosed as a kidney stone he needs to pass. Cameron was scratched prior to Thursday's game after complaining of lower abdominal pain.
Dallas Cowboys owner Jerry Jones, is making his first public comments since a secretly shot video of him spread across the Internet. At a charity fundraiser, Jones expressed great respect for Bill Parcells and regret that a private, profane conversation became public. Jones said, "Bill, first of all, is a real friend of mine," Jones said. "He is a great football coach. He probably has as good or better people skills than anybody I ever met. I have complete trust in him." Jones said the video, which was filmed on a cell phone while he was socializing recently at a Dallas restaurant, was taken out of context.
Former Lions WR, and #1 pick in 2005, Mike Williams, who was most recently with the Tennessee Titans, has found a new home thanks to a former coach. Seahawks head coach Pete Carroll has reunited with the former Trojan standout signing him to a contract, according to the Seattle Times. The Seahawks had 75 players at the three-day minicamp, and Williams was one of the 17 participating on a tryout basis. He made the cut.
Raiders quarterback Bruce Gradkowski had surgery Friday on a pectoral muscle he tore while lifting weights on Wednesday. He's expected to be back in time for camp this summer. Oakland signed free-agent quarterback Kyle Boller Thursday.