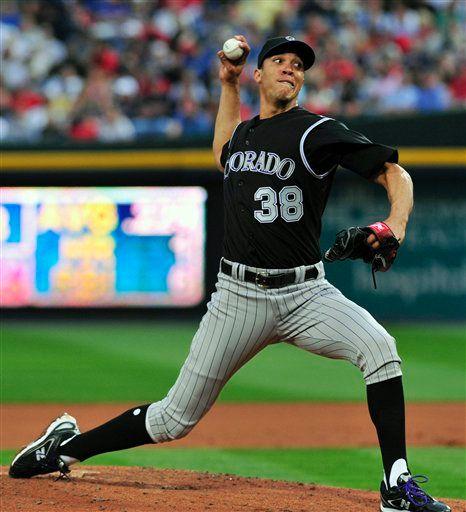 AP Photo/Gregory Smith
Ubaldo Jimenez Throws No-Hitter!
Ubaldo Jimenez (3-0) allowed six walks but not a hit and the Colorado Rockies beat the Atlanta Braves 4-0. Dexter Fowler's diving catch in the seventh helped Jimenez preserve the no-hitter. It was the first no-no in Colorado's 18-year franchise history.
Extra Inning Classic In St. Louis
The Mets and Cardinals played the longest game in the majors in 2 years. Jose Reyes' sacrifice fly in the 20th inning was the difference in New York's 2-1 victory. The game included 19 pitchers and lasted 6 hours, 53 minutes.
Alex Rodriguez hit his 584th home run and first this season, passing Mark McGwire for sole possession for 8th place on the career home run list. Rodriguez hit a solo shot off Doug Mathis in the fourth inning Saturday, to right-center that gave the Yankees a 7-0 lead over Texas ... They went on to win 7-3.
After the jump ... Georgetown loses Greg Monroe, NBA and NHL Playoffs continue, David Lee loves NY, Redskins' McIntosh not happy, Tim Tebow on Jerry Jones, and Curtis Granderson -- Player of The Year.
The first round of the NBA Playoffs began with 4 matchups: Bulls/Cavs, Bucks/Hawks, Heat/Celtics and Jazz/Nuggets.
The NHL playoffs continued Saturday with 3 games: Bruins/Sabres, Canadiens/Capitals and Kings/Canucks
Georgetown sophomore center Greg Monroe will forgo his final two years of college and submit his name for the NBA Draft. Monroe plans to sign with an agent. Georgetown University coach John Thompson III said, "Greg and I, along with his family, have examined the situation and he has made an educated decision."
Knicks Lee Wants to Return to NY
With all the attention this summer focusing on LeBron James, Dwyane Wade, Amaré Stoudemire, and Chris Bosh as potential targets for the New York Knicks, forward/center David Lee wants his name to remain in the mix. Lee made a strong statement about his own ability to become an "elite player" in the NBA. "It's definitely an option," Lee said. "I know their No. 1 thing - there's no secret to that - is to see what LeBron is going to do. Then they got to find someone to go with him or if doesn't come they have to go to Plan B through F or whatever."
Redskins Linebacker Hints At Trade
The Washington Post reports that Redskins linebacker Rocky McIntosh will not attend this weekend's voluntary mini-camp. McIntosh has expressed frustration about his contract situation and intimated that the Redskins might trade him soon.
Tebow Laughs Off Jerry Jones Video
During a cell-phone video that hit the Internet earlier in the week, Jerry Jones was critical of Tim Tebow saying, he would "never get on the field" if Dallas selected him in the upcoming NFL draft. Tebow laughed it off Saturday saying, "I really haven't even thought about it," he said. "I don't even take that as an offense. He's just having fun."
Granderson Awarded Man of the Year by MLBPA
Yankees CF Curtis Granderson was voted the 2009 Marvin Miller Player of the Year by his peers. The award is named after the founding executive director of the MLBPA and is given to the player whose on-field and off-field performances most inspires others.