Trail Blazers 105, Suns 100 (Blazers lead series 1-0)
The Blazers improve to 4-21 all-time in Game 1's played on the road. Andre Miller led the Blazers with 31 points and 8 assists, and added 5 rebounds. He's the first Blazer to have 30 Pts, 8 Reb and 5 Ast in a playoff game since Clyde Drexler in 1992. The Blazers haven't won a playoff series since 2000, and have lost their last 5 postseason series, the longest active streak in the NBA. Portland has won 3 of 4 meetings with the Suns this season, regular season and playoffs. Steve Nash led the Suns with 25 points and 9 assists, his 21st-career 25-point playoff game. Oh, by the way, the Blazers beat the Suns without Brandon Roy, who underwent surgery arthroscopic surgery last Friday on his right knee and will miss one or two weeks. Game 2 will be played in Phoenix, Tuesday 4/20 at 10:00 PM ET on NBA TV.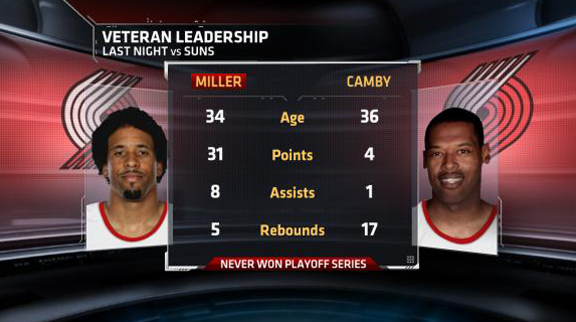 TRAIL BLAZERS: Lets take a closer look at Camby and Miller's numbers from game 1. The two are a combined 70 years of age and helped on both sides of the floor. Miller scored 34 and dished out 8 assists, while Camby pulled down 17 rebounds.