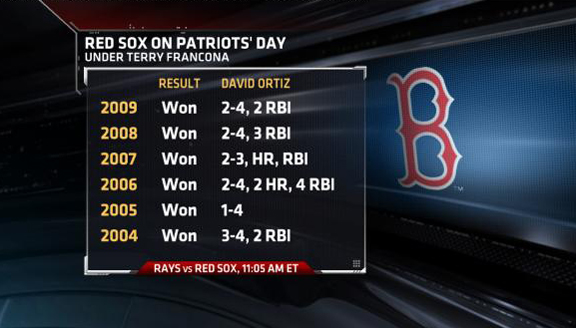 HAPPY PATRIOT'S DAY: Under Terry Francona, the Red Sox are 6-0 on Patriots Day, with David Ortiz making it his own personal field day. In those 6 games, Ortiz has multi-hit games in 5 of them, with 3 home runs and a total of 12 RBI. Meanwhile, Ortiz, who is 4 for his last 17 (with four doubles), expressed some optimism about his hitting Saturday, saying "I feel like my timing is getting better. I'll tell you what, some explosions are coming."
Game Preview: Rays vs Red Sox | Starting Pitchers: Tampa Bay: Niemann (0-0, 3.24 ERA) Boston: Lackey (1-0, 1.42 ERA)
After the jump, move over Hank Aaron the Braves have a new slugger in town, and find out why the Mets future is beginning right now. Plus, Kevin Durant found out why the Lakers signed Ron Artest in the off-season.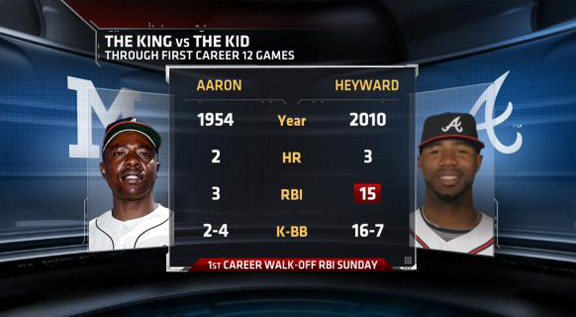 MONSTER MASHER: With another fantastic game, Jason Heyward's first 2 weeks in the majors have been a success. His 3 home runs and 15 RBI compare favorably with Hank Aaron in his first 12 games. Hammerin Hank had 2 home runs and 3 RBI but only struck out twice, while Heyward has whiffed 16 times.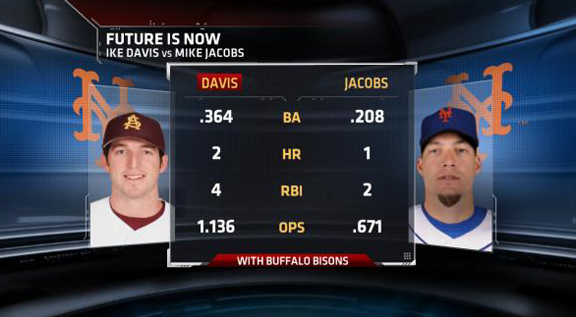 PHENOM TO THE RESCUE: With Mets 1st baseman Mike Jacobs being designated for assignment, it paves the way for prospect Ike Davis to join the Mets roster. The young phenom has been tearing it up with minor league affiliate Buffalo, hitting .364 with an on base plus slugging of over 1,000. Mets face the Cubs tonight at 7:05PM ET at Citi Field. Game Preview | Starting Pitchers: Chicago: Wells (1-0, 2.92 ERA) | New York: Niese (0-1, 6.55 ERA)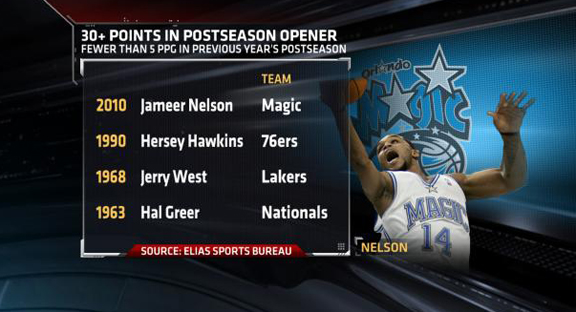 WELCOME TO THE CLUB: Jameer Nelson scores a career-playoff high 32 points. It's a nice bounce back for Nelson who missed most of last year's postseason with a shoulder injury. He's just the 4th player in NBA history to score at least 30 points in a postseason opener after averaging fewer than 5 points per game in the previous year's postseason. Game Recap | Box Score | Highlight
MOVING UP THE CHARTS: In addition to Dirk's hot shooting, the Mavs were led by veteran Jason Kidd. Kidd had 11 assists and passed Michael Jordan for 5th all-time in postseason assists. With a solid postseason, he could pass Larry Bird and Scottie Pippen for 3rd all-time but has no chance of catching Magic and John Stockton anytime soon. Game Recap | Box Score | Highlight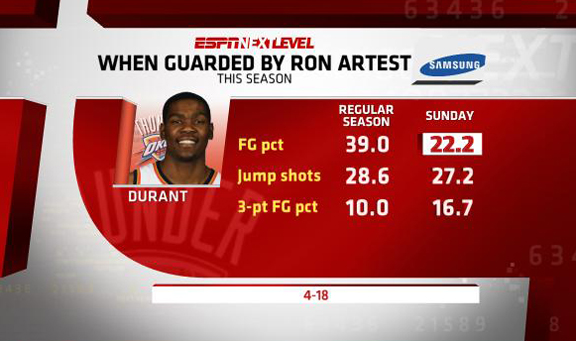 SHOW STOPPER: We go next-level to show you how Ron Artest has shut down the NBA's leading scorer, Kevin Durant. During the regular season, Durant shot just 39 percent against Artest and that continued in Game 1 as Artest held him to 22 percent shooting, including just 1 of 6 from beyond the arc. Game Recap | Box Score | Highlight
NOTE: The Elias Sports Bureau and ESPN Stats and Information group contributed to this report