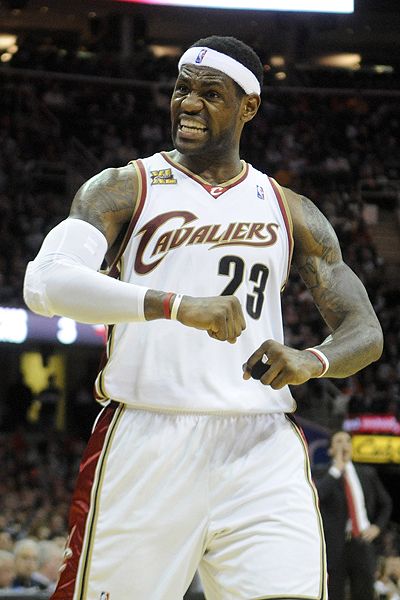 Jason Miller/US Presswire
True or False: LeBron James got amped up for Game One by listening to Hulk Hogan's theme song, "Real American?"
Unlike the NHL playoffs, where upsets are the hot new fad, the only road team to have won an opening game in the NBA playoffs was the Portland Trail Blazers. We'll have to see if it holds up though. Portland hasn't won a playoff series since 2000 and have lost their last five postseason series', the longest active streak in the NBA.
Two more road teams get their shot at stealing home-court advantage tonight as the Bulls visit the Cavs at 8 (ET) followed by the Jazz and Nuggets at 10:30 (ET). If Chicago wants to snag Game Two, Joakim Noah will need to put his issues with KG aside for a moment and concentrate on Cleveland. And by "concentrate" we mean "playing defense," not "angering Cleveland's fans instead of Boston's." LeBron James has a career average of 29.2 PPG against the Bulls in the regular season, the highest for any player in NBA history (minimum: 20 games played).
As for the Jazz, it looks like the injury bug has migrated from Portland to Utah as Mehmet Okur will join Andrei Kirilenko on the sidelines after tearing his Achilles' tendon on Saturday night. If the Jazz are going to even the series they'll need a big game from Okur's fellow three-point specialist Ashton Kutcher Kyle Korver.
In the spirit of playoff basketball we've put together a quiz for tonight's games. As usual, you have ten minutes to complete this quiz. Answers are at the bottom and please, no peeking. Good luck!
1. With LeBron James on their squad, the Cavaliers are (6-0) when winning Game One of a playoff series. Moreover, Cleveland's franchise has never lost a best-of-seven series (7-0) when they've lead 1-0. What other NBA franchise has an undefeated playoff record after winning Game One of a best-of-seven series (minimum two series')?
a) Chicago Bulls
b) Portland Trail Blazers
c) Miami Heat
d) Orlando Magic
2. Which of these Bulls players has not won an NCAA championship?
a) Joakim Noah
b) Chris Richard
c) Hakim Warrick
d) Kirk Hinrich
3. Shaquille O'Neal has played in 204 career playoff games and enters tonight's game with 5,133 career points in the playoffs. Only two players have scored more points in NBA playoff history. Who are they?
a) Michael Jordan and Karl Malone
b) Michael Jordan and Jerry West
c) Michael Jordan and Kareem Abdul-Jabbar
d) Michael Jordan and Wilt Chamberlain
4. Last season Derrick Rose tied the NBA record for most points by rookie in a postseason debut with 36. What player shares this record with D-Rose?
a) Michael Jordan
b) Magic Johnson
c) Kareem Abdul-Jabbar
d) Wilt Chamberlain
5. With home-court advantage throughout the NBA playoffs, the Cavaliers mascot will be getting a lot of screen time. What's his name?
a) Bron-Bron
b) Moondog
c) Ted Spaniel
d) Puggle Weinstein
6. The Nuggets won their 12th straight opening game of a playoff series at home and have not lost the first game of a series at home since 1977. Only one team has a longer current streak of consecutive wins in Game One home games. What team is it?
a) Chicago Bulls
b) L.A. Lakers
c) Utah Jazz
d) San Antonio Spurs
7. The Jazz franchise was founded in New Orleans in 1974 and has yet to win an NBA championship. Who is the only player on the current Jazz roster to have won an NBA championship?
a) Mehmet Okur
b) Carlos Boozer
c) Kyle Korver
d) Nobody has won an NBA championship on the Jazz roster
8. True or False: the Nuggets have never missed the playoffs since drafting Carmelo Anthony?
a) True
b) False
9. Jerry Sloan has coached the Jazz for 22 consecutive seasons. Counting this year's appearance, how many times has he made the postseason coaching Utah?
a) 14
b) 17
c) 19
d) 21
10. During Saturday night's 126-113 victory over the Jazz, Nuggets superstar Carmelo Anthony scored 42 points tying a franchise playoff record for points in a game. Who else shares this record with Melo?
a) Dan Issel
b) Allen Iverson
c) Alex English
d) J.R. Smith
Answers:
1. Portland Trail Blazers
2. Kirk Hinrich
3. Michael Jordan and Kareem Abdul-Jabbar
4. Kareem Abdul-Jabbar
5. Moondog
6. Chicago Bulls - 18
7. Mehmet Okur
8. True
9. 19
10. Alex English (on two occasions)