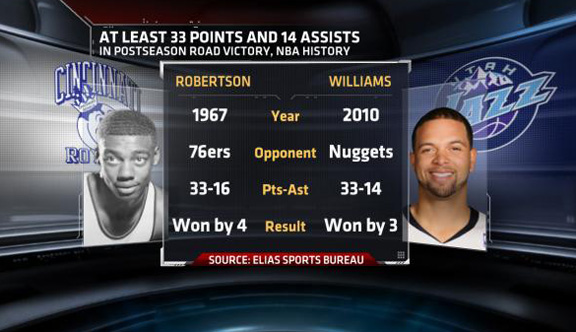 ELITE COMPANY: Deron Williams accomplishes something only Oscar Robertson had been able to do in NBA postseason history. The two are the only players to register at least 33 points and 14 assists in a road playoff win. The Big O did it in March of 1967 against Wilt Chamberlain's 76ers.
Game Recap | Box Score | Highlight | Jazz Even The Score
After the jump, find out why it looks like 1996 for the Red Sox , inside Jeff Gordon's 37 race win-less streak, why Alex the Great is so amazing, and we continue to set the table for Thursday night's NFL draft.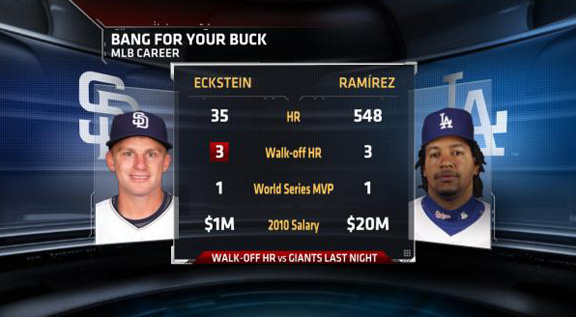 ECKSTEIN VS RAMIREZ: In baseball, David Eckstein's walk-off HR was the 3rd of his career, which is the same number of walk-off HRs hit by Manny Ramirez, who has 548 career home runs, to Eckstein's 35. This season, Eckstein makes $1 million, while Manny pulls down $20 million.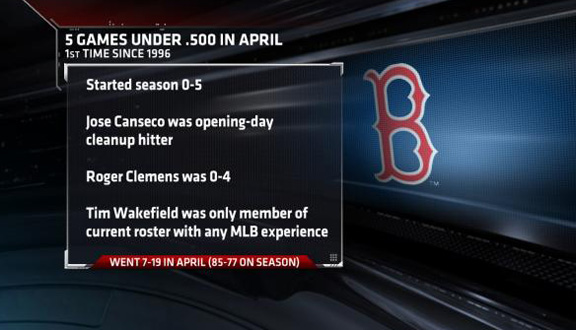 FREE FALLING: The Red Sox are now 4-9 on the season. The last time Boston was 5 games under .500 in April was in 1996. They finished 7-19 that month. Jose Canseco was the opening-day cleanup hitter. Roger Clemens was 0-4. The only series they won that month was a 2-gamer vs the Rangers. However, they would rebound and finish the season 8 games above .500.
Game Recap | Box Score | Highlight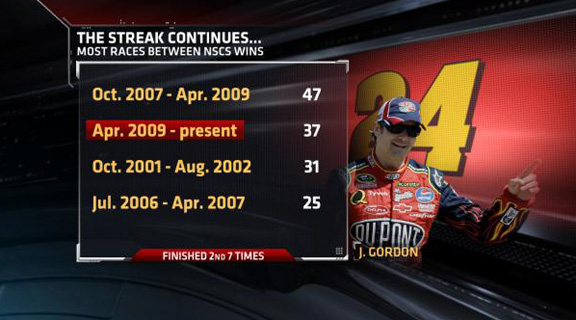 BURNOUT: The win-less streak continues for Jeff Gordon. He has now gone 37 races between Sprint Cup wins, the 2nd longest streak of his career. His win at the NASCAR Sprint Cup Series at Texas last season snapped a 47 race win-less streak as he has just 1 win in his last 85 starts.
Recap: 24 vs 48 | Hamlin shows true grit in Texas win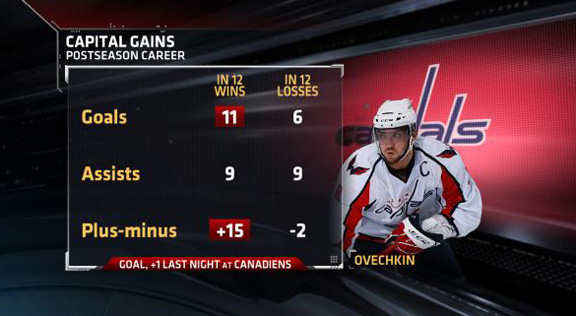 ALEX THE GREAT: With the win last night, the Caps improve to 12-12 in the playoff career of Alex Ovechkin. In those 12 wins, Ovechkin has 11 goals and 9 assists and a plus-minus of plus fifteen, including a goal and a +1 last night.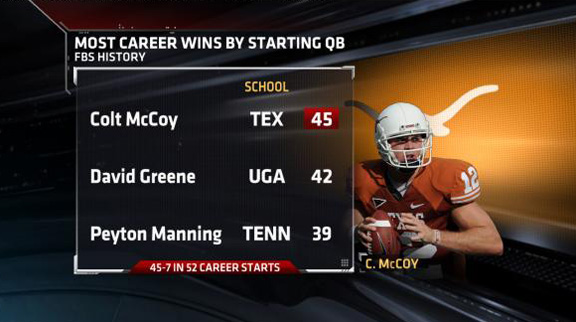 WHEN YOU NEED A 'W', CALL McCOY: Turning our attention to the NFL draft, Colt McCoy finished his college career 45-and-7. That win total is the most in NCAA history by a starting quarterback, bettering Georgia's David Greene. Last year, McCoy won the Maxwell Award as the collegiate player of the year, the Davey O'Brien Award (nation's top quarterback) and Johnny Unitas Golden Arm Award (nation's top senior quarterback).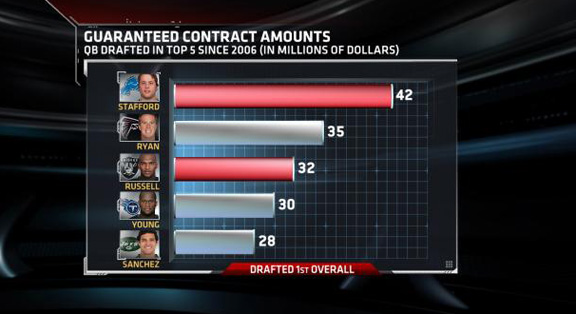 SHOW ME THE MONEY: Mark Sanchez's $28 million in guaranteed money is the 5th most among quarterbacks taken in the top 5 since 2006. Sanchez's $28 million is also the highest for a player selected 5th overall since 2005. Matthew Stafford, the top pick in the '09 Draft will receive $42 million guaranteed.