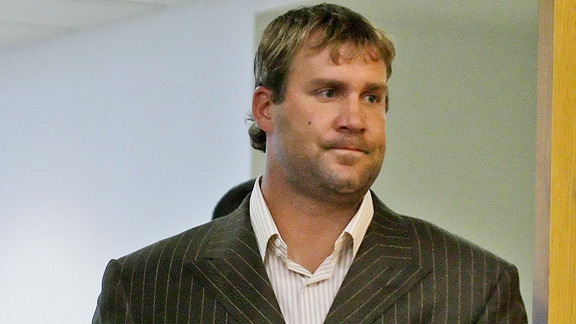 AP Photo/Gene J. Puskar
A decision to suspend Ben Roethlisberger could come this week. A source tells ESPN NFL Insider Adam Schefter that it's expected to be a two to four game ban. Everyone who has ever been suspended under the league's personal conduct policy has at least been charged with a crime. Roethlisberger would be the exception to that rule.
Eagles/Lions/Broncos 3-Team Trade
The Denver Broncos, Detroit Lions, and Philadelphia Eagles completed a 3-team trade Monday. Denver will receive the Eagles 5th round draft pick, Philadelphia gets LB Ernie Sims from the Lions, and Detroit end up with TE Tony Scheffler from the Broncos along with a 7th round pick.
Chris Berman Staying with ESPN
One of ESPN's most famous personalities plans to end his career in Bristol. Chris Berman, the voice of Sunday NFL Countdown, Monday Night Countdown and Monday Night Football halftime, signed a three-year extension with the network. "Boomer" has been with ESPN since 1979, less than a month after it launched.
The NFL Draft begins in prime time on Thursday night, and it looks like it will begin without Notre Dame quarterback Jimmy Clausen in attendance. His agent tells USA Today that he will remain with his family, and has plans to be near his grandfather, who is unable to travel to New York.
McCoy Tests Positive at Combine
USC tight end Anthony McCoy tested positive positive for marijuana at the NFL Scouting Combine. All 32 NFL teams were made aware of the positive test which could affect his draft position. He was considered to be a 2nd or 3rd-round pick prior to the test results.
Despite the acquisition of Brady Quinn, and incumbant starter Kyle Orton still on the roster, the Denver Broncos may still draft a QB high in this weekend's draft. Tim Tebow flew in for a private workout with the Broncos on Monday. Head coach Josh McDaniels said there is "no question" that Tebow will become a successful NFL QB.
Kenya's Robert Kiprono Cheruiyot won the 2010 Boston Marathon, breaking the course record by 82 seconds. Cheruiyot won in an unofficial time of 2 hours, 5 minutes, 52 seconds. The women's race ended in the third-closest finish in history, Ethiopia's Teyba Erkesso won by just 3 seconds, finishing in 2:26:11. Defending champion Salina Kosgei was third, and Paige Higgins of Arizona was the top American woman in 13th.
Spanish Forward Torres Expects to Play in the World Cup
The world's No. 1 ranked soccer team can breathe a little easier. Spanish forward Fernando Torres had his injured right knee operated on Sunday, but expects to be ready to play before his country opens the World Cup on June 16th. The recovery time is typically 6 weeks for this type of surgery and the World Cup is still 7 weeks away.
Yanks to Meet Obama at White House
While the Yankees don't have a game scheduled next Monday, they do have an important meeting planned at the Nation's capital. The 2009 World Series Champs will spend part of their day at the White House, being honored by President Obama. It will be the third time since 2001 the team will be recognized at the White House.