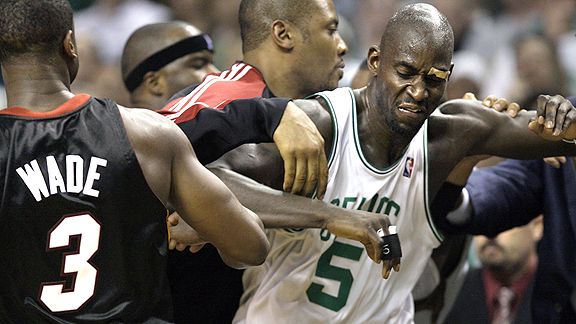 AP Photo/Elise Amendola
Miami Heat vs Boston Celtics -- Game 2
8:00 PM ET, April 20, 2010 -- TD Garden, Boston, MA
Kevin Garnett is suspended for tonight's game after hitting Miami Heat SG Quentin Richardson with an elbow in Game 1. The Celtics took Game 1 of the series, the first postseason meeting between the teams, making them 4-0 vs Miami this season. Miami led by as many as 14 points in Game 1 and led 66-64 after 3 quarters. However, Miami fell apart shooting 4-21 FG in 4th quarter. The Celtics will miss KG. Boston was 44-25 with Garnett in the lineup this regular season, and just 6-7 without him. Glen "Big Baby" Davis is expected to fill KG's spot.
Game Preview: Heat vs Celtics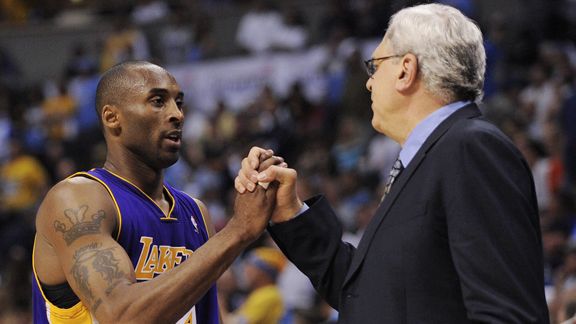 AP Photo/ Chris Carlson
Oklahoma City Thunder vs Los Angeles Lakers -- Game 2
10:30 PM ET, April 20, 2010 -- STAPLES Center, Los Angeles, CA
The Lakers are 13-1 in their last 14 games vs Thunder (regular and postseason) including 4-1 this season. They are 10-0 all-time in 1st round series as a #1 seed. Phil Jackson is 19-0 in 1st-round home games as the coach of a top-seeded team. Jackson is 53-16 in 1st round games, the best record in NBA history. With one more win, Kobe Bryant and Phil Jackson will become the 6th player-coach combination to win 100 postseason games together. Jackson previously did so with Michael Jordan and Scottie Pippen. None of those stats seem to phase Oklahoma City. The Thunder, the youngest team in the NBA, didn't appear intimidated in Game 1 and will look for a series split before heading home for Game 3 Thursday.
Game Preview: Thunder vs Lakers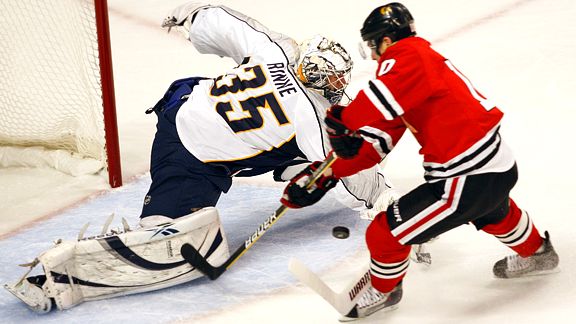 Jerry Lai/US Presswire
Chicago Blackhawks vs Nashville Predators -- Game 3
9:00 PM ET, April 20, 2010 -- Bridgestone Arena, Nashville, Tennessee
This is the first game between the teams in Nashville since December 26 when the Blackhawks won 4-1. Nashville did not live up to its moniker as "Smashville" in Game 2. Will the Predators return to what helped them win Game 1? They also didn't throw the puck at the net like they did in Game 1.
Predators in Conference Quarterfinals
Game 1/Game 2
Hits - 40/28
Missed shots - 17/10
Shots blocked - 14/13
Takeaways - 6/3
Game Preview: Blackhawks vs Predators
San Jose Sharks vs Colorado Avalanche -- Game 4
10:00 PM ET, April 20, 2010 -- Pepsi Center, Denver, Colorado
The fluke goal that ended Game 3 could kill the Sharks for the rest of the series. Or they could take heed in this; the last time they lost a 1-0 game to the Avalanche in the playoffs came in 2004 in Game 4 of the Conference Semifinals. They would actually lose the next game but won Game 6 to take the series. San Jose has outshot Colorado 103-39 in their last 2 games, but Craig Anderson has made 96 saves in that span.
Game Preview: Sharks vs Avalanche
Note: The Elias Sports Bureau and ESPN Stats and Information group contributed to this report.