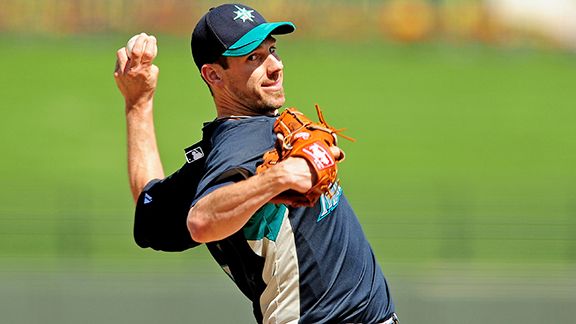 Mark J. Rebilas/US Presswire
Cliff Lee's five-game suspension has been rescinded after the Mariners ace appealed his case last week. The former Cy Young winner had been suspended and fined an undisclosed amount for throwing over the head of Arizona's Chris Snyder during a spring training game.
Tomlin Tells Steelers to "Get In Line"
Steelers head coach Mike Tomlin passed along a zero-tolerance policy for off-the-field issues to an audience that included quarterback Ben Roethlisberger. According to tackle Willie Colon, the players were told, "either you get in line or you get kicked out of line, either you'll be traded or you're not going to be here."
The NFL released the 2010 schedule Tuesday. Among the highlights are a Week 1 rematch of the NFC Championship game between the Saints and Vikings and Donovan McNabb's return to Philadelphia in Week 4.
After the jump: Camby Gets Extension, Howard Defensive Player of the Year Again, Possible McNabb/Owens Reunion, Jason Taylor Agrees with Jets, Volquez suspended 50 games and more.
Howard NBA Defensive Player Of The Year
Orlando Magic center Dwight Howard has won his second-straight defensive player of the year award. Howard was the first player in NBA history to lead the league in rebounds and blocks in more than one season.
The Portland Trail Blazers signed center Marcus Camby to a two-year contract extension. Blazers GM Kevin Pritchard made the announcement Monday but terms of the deal were not released. Camby ranked 2nd in in the NBA in rebounds, 5th in blocked shots, and 8th in steals-to-turnover ratio this season.
Madden Cover Announcement Thursday
Last season, defenses couldn't stop Drew Brees on his way to the Super Bowl, but what if he becomes cursed? He's one of three finalists for the cover of Madden 11 along with the Vikings Jared Allen and the Colts' Reggie Wayne. Fans can vote for the "winner", with the announcement coming Thursday, before the draft. (Team may want to consider adjusting their draft strategy accordingly).
A sequel in the nation's capital could be a reality. Donovan McNabb, whose most successful season in Philadelphia came when throwing balls to Terrell Owens, has reportedly asked his new coaching staff to consider bringing the free-agent wideout to Washington.
Taylor Agrees To Contract With Jets
Jason Taylor has agreed to a 2-year, $3 million contract with the New York Jets. The deal could be worth as much as $3.75 million based on playing time. He will be asked to boost a Jets pass rush that finished tied for 18th in the NFL last season with only 32 sacks.
Volquez Tests Positive for PEDs
Reds pitcher Edinson Volquez was suspended for 50 games after testing positive for performance-enhancing drugs. Volquez is recovering from elbow surgery and was expected back around mid-season. He was named an All-Star in 2008 when he was 17-6 for Cincinnati.
Lorena Ochoa, the world's top-ranked female golfer, confirmed that she plans to announce her retirement Friday. Arguably the biggest non-soccer-playing athlete in her native Mexico, Ochoa's move comes after a three-year run of dominance from 2006 to 2008 that was almost unparalleled in LPGA history.
Colorado Rockies president Keli McGregor was found dead in a Salt Lake City hotel room Tuesday morning. He was 48.
Police said they didn't see "anything suspicious" and believe McGregor died of natural causes. The official cause of death is still to be determined.