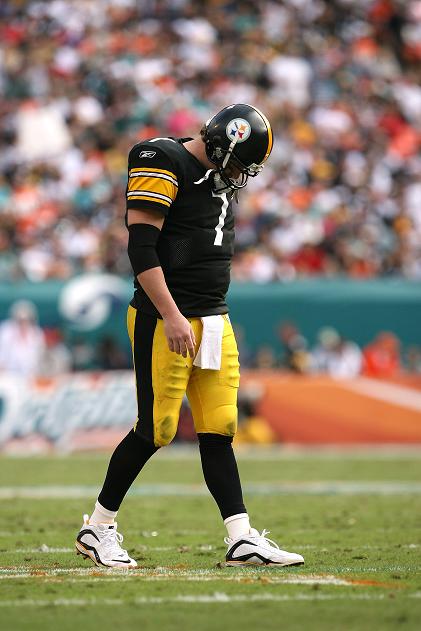 Doug Benc/Getty Images
Commissioner Roger Goodell notified Ben Roethlisberger he must undergo a comprehensive behavioral evaluation and is suspended for six games for conduct detrimental to the NFL. Goodell will review Roethlisberger's progress prior to the season and consider reducing the suspension to four games. Failure to cooperate could lead to a longer suspension.
Piniella Moves Zambrano To The Pen
Cubs manager Lou Piniella is tired of watching his relievers blow games and has decided to move ace pitcher Carlos Zambrano to the bullpen. Piniella talked to Zambrano about switching to an eighth-inning role before Chicago faced the New York Mets on Wednesday night. He says Zambrano was ready to do whatever was best for the team and the change "makes all the sense in the world."
Scott Brooks - NBA Coach of the Year
In his first full season as the Thunder's head coach, Scott Brooks led the team to a 27 more wins than a year prior. Wednesday, Brooks was named the NBA's coach of the year. The Thunder won 50 games in the regular season and made the playoffs after winning only 23 games a season ago. The improvement came without a significant free agent signing.
After the jump ... Steelers looking to deal Roethlisberger?, Ben's backup, Tiger adds 2 more tournaments, Tebow not in NY for the draft, Reggie Bush settles case, Big Ten still talking expansion and Juan Antonio Samaranch dies.
Steelers Listen To Offers For Roethlisberger
Ben Roethlisberger could be traded away from Pittsburgh if the price is right. The Post-Gazette reports that the team is not actively trying to trade the quarterback, but would consider offers for him. The Steelers are so determined to put Roethlisberger's off-field problems behind them, they spent time Wednesday weighing whether they'd trade their two-time Super Bowl winner if they got the right offer.
Ben's Backup Contract Extended
Knowing that they'd be without Ben Roethlisberger for a period of time, the Steelers acquired Byron Leftwich on Tuesday. On Wednesday, Leftwich's contract was extended by one year through 2011. Leftwich will earn $1.8 million in base salary this year ... $2 million 2011. He was Roethlisberger's backup during their 2008 Super Bowl season.
Tiger Woods added two more tournaments to his schedule that is not much different from previous years except for the timing. Woods entered The Players Championship and the AT&T National. It was the second straight week that Woods made an early commitment to a PGA Tour event. This allows more time to promote his appearance. In past years Woods waited until the last few days before signing up.
No Place Like Home For Tim Tebow
Former Florida quarterback Tim Tebow has declined an invitation to attend Thursday's NFL Draft. The former Heisman Trophy winner instead will watch the draft from his home in Jacksonville, saying it would be too hard to bring his entire family along to New York. Tebow is the second high-profile QB to announce he will not be on hand. Earlier this week Notre Dame's Jimmy Clausen confirmed he will not be in New York as well.
Reggie Bush Settles The Matter
Former USC RB Reggie Bush has reached a settlement in a civil case with failed marketing agency New Era Sports & Entertainment. The settlement comes just days before Bush was expected to give a court-ordered deposition in the suit, centering on $300,000 in unpaid rent, cash and other benefits allegedly provided to the former Heisman Trophy winner and his family while he was at USC.
Ronaldinho Hoping to Appear in the World Cup
Brazil star Ronaldinho thinks he will be a part of the 2010 Brazilian World Cup team, but the decision isn't up to him. Brazil coach Dunga has the final say on his roster and there are no guarantees the two-time FIFA player of the year will make the cut. Ronaldinho hasn't appeared for his national team since a World Cup qualifier against Peru in 2009 and many experts think he will not appear in his 3rd-straight World Cup.
Big Ten Expansion - Still A Work In Progress
Big Ten commissioner Jim Delany put at end to the uproar about expansion and college sports Armageddon -- at least for now -- by telling reporters Wednesday that the league's timetable for its expansion study remains unchanged. In case you forgot, the Big Ten said in December that the process would take 12-18 months, and we're only in Month No. 4.
Juan Antonio Samaranch, 1920-2010
Former International Olympic Committee president Juan Antonio Samaranch has died in Spain. He led the IOC for 21 years until 2001, when he was succeeded by Jacques Rogge. He had been admitted to a Barcelona hospital after suffering heart trouble.