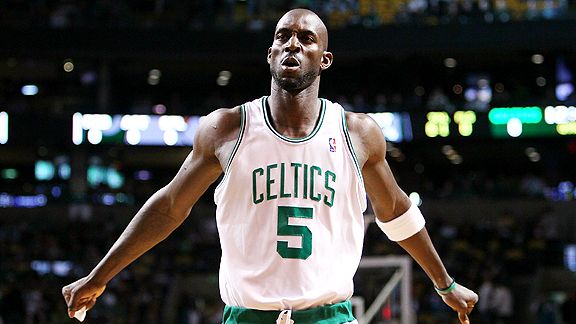 Elsa/Getty Images
We know KG is going to work up a sweat regardless of the temperature.
Yes. Because this weekend, action is heating up in both the NBA and NFL playoffs, NASCAR's favorite soap stars are heading south for a rematch at Talladega, and, oh yeah, 32 NFL teams are stocking up for 2010. So break out your Colts mini fans and settle in for a sizzling sports weekend.
NBA Playoffs: Hot Shots, Part Tres?
Speaking of things that are caliente, the Celtics (+Kevin Garnett) roll into Miami tonight (7 ET on ESPN) looking to go up, 3-0, on the Heat. But can Boston keep up its sizzling shooting (the Celts scored 21 straight points in the second quarter en route to their 106-77 win in Game Two)? Or will Dwyane Wade get some help from Quentin Richardson, Michael Beasley and company to prevent Boston from gaining a 3-0 advantage? In the West, the dogfights that are the Mavericks-Spurs and Nuggets-Jazz series continue with Mavs-Spurs (9:30 ET on ESPN) moving to San Antonio and Nuggets-Jazz (10:30 on ESPN2) moving to Salt Lake City. We wonder how all of Melo's people of Utah will react to his arrival. You can check out the full weekend slate, including Magic-Bobcats and Lakers-Thunder on Saturday, here.
NHL Playoffs: Sadly, We Can't Blame This Late Night on Hot Lava
The Bruins and Capitals can both close out their first-round series with wins Friday. Boston, up 3-1, plays at Buffalo (7 ET) while Washington, also up 3-1, hosts Montreal (7 ET) in two of the four Game Fives on Friday's slate. If the Caps look a little sluggish, it's because they sat on the tarmac for three hours after coming home from Montreal Wednesday night Thursday morning after waiting for a customs agent at BWI airport (they were supposed to have landed at Dulles). What's worse, they don't even have a cool story like all those athletes grounded because of Iceland's volcano. Los Angeles-Vancouver (10 ET) and Detroit-Phoenix (10 ET), both tied 2-2, fight to take advantage of their series. Playoff games continue all weekend, pending no more airport disasters.
NASCAR Sprint Cup: It's Always Crashy at Talladega
Even if you don't know NASCAR, you know Talladega, courtesy of Will Ferrell's 2006 hit "Talladega Nights." And while "The Long One" was fake, "The Big One" is always a very real threat at 'Dega. Especially this time around, when we have the feuding Carl Edwards (15th in points) and Brad Keselowski (25th) in the pack. Their trouble began last April at Talladega, when Carl and Brad got into it on the final lap with Keselowski wrecking Edwards to capture the win. Last month at Atlanta, Edwards - who was more than 100 laps down – sent Keselowski flying. Will Keselowski retaliate for Edwards' retaliation? Hint: Keselowski said he'd do it again. We'll find out just what does go down Sunday (1 ET on FOX).
The NFL Draft: The Later the Round, the Bigger the Steal
The glitz and glamour of the first round happened last night, but the search for a future Tom Brady (sixth round, 199th overall pick turned Super Bowl MVP) has just begun. Rounds two and three of the NFL Draft (Live From Radio City Music Hall!) start tonight (6 ET on ESPN) and the final four rounds play out Saturday morning (10 a.m. ET on ESPN). Don't forget to stick with coverage until the end, less you insult Mr. Irrelevant.