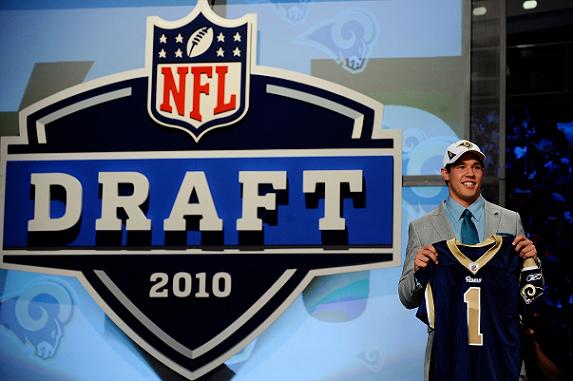 Jeff Zelevansky/Getty Images
Sam Bradford Picked #1, Tebow To Broncos, Clausen Waits
Starting with quarterback Sam Bradford going to the St. Louis Rams, the NFL Draft was a showcase for the Big 12. The Oklahoma junior became the eighth quarterback since 2001 taken atop the draft. He was immediately followed by DT Ndamukong Suh of Nebraska, DT Gerald McCoy and OT Trent Williams, Bradford's teammates with the Sooners. Tim Tebow was the 2nd QB taken, going to Denver with the 25th pick. Jimmy Clausen was not taken in the first round.
NCAA Hoop Tournament Looking To Move To 68
The NCAA hopes to expand the men's basketball tournament from 65 to 68 teams beginning next year. They also announced a new, $10.8 billion broadcasting deal with CBS and Turner Broadcasting on Thursday that will allow every game to be shown live for the first time.
Kenyon Martin missed the Nuggets' final practice Thursday, before their Game 3 with Utah. Martin was held out of the workout as a precaution, allowing him to rest the sore left knee that caused him to miss 18 games late this season. Acting coach Adrian Dantley says Martin's knee feels good and he will be a game-time decision for Friday night.
After the jump ... Delonte West's trial postponed, Dale Earnhardt #3 to race again, Calvin Pace disagrees with Roethlisberger decision, Drew Brees on Madden cover and Lance Armstong's influence.
Dolphin Offered Deal To Jason Taylor
The Miami Dolphins did in fact make an offer to Jason Taylor after the 2009 season, a source close to the situation told ESPN NFL Insider Adam Schefter. The Dolphin's offer even included an $850,000 raise that would have boosted his salary to over $2 million per year. Taylor signed with the Jets Tuesday.
The trial of Cleveland Cavaliers guard Delonte West on weapons charges has been postponed until July 21. Authorities say West was carrying two loaded handguns, a loaded shotgun andan 8 1/2-inch knife while riding a three-wheel motorcycle on the Capital Beltway in Maryland in September. Police say he was pulled over after cutting off an officer. West's trial already had been postponed from February until April 26.
Dale Earnhardt Jr. will drive a No. 3 Nationwide Series car in the July race in Daytona International Speedway as part of a tribute series to his late father ... this according to ESPN.com. Dale Earnhardt drove the No. 3 to six of his seven Sprint Cup titles. He became the "Man in Black'' in 1988 when GM Goodwrench replaced Wrangler and the No. 3 paint scheme went to black.
Calvin Pace Disagrees With Roethlisberger Suspension
When Roger Goodell handed down a six-game ban for Ben Roethlisbergerunder the league's personal conduct policy, it raised some eyebrows among players in the NFL. One of them was Jets linebacker Calvin Pace, who told the New York Post, "How do you suspend somebody who didn't get convicted in court? I don't get it. How can you do it? Because Roger Goodell's like a judge. That's a lot of games, especially for a franchise quarterback ..."
Saints quarterback Drew Brees has been selected by fans as the player who should be on the cover of Madden 11. Brees was up against Reggie Wayne (Colts) and Jared Allen (Vikings) in the vote. Brees isn't worried about any curse that would come along with it, telling the Times-Picayune, "Just like records are made to be broken, curses are made to be broken, too."
According to E-Poll Market Research, Lance Armstrong tops the list of athletes with the most influence in America. In measuring 46 attributes of more than 5,000 celebrities - including influence, awareness and likability - Armstrong is known by more than 50% of the country, and well-liked by 46%. The top ten fall into place like this:
1. Lance Armstrong
2. LeBron James
3. Tim Tebow
4. Shaun White
5. Shaquille O'Neal
6. Peyton Manning
7. Kevin Garnett
8. Kobe Bryant
9. Apolo Anton Ohno
10. Dwyane Wade