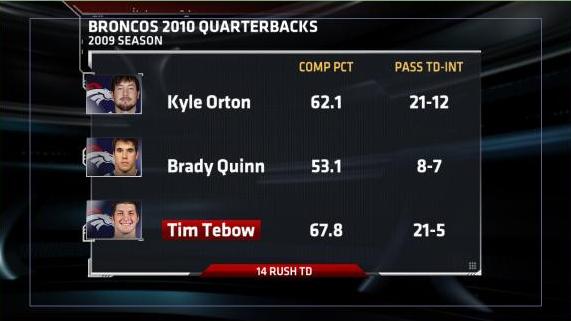 The talk of the 2010 NFL Draft's first round was all about Tim Tebow. The Denver Broncos selected Tebow with the 25th pick of the first round. The selection raises many eyebrows. Kyle Orton was the starter in Denver last year, throwing for 21 touchdowns. The Broncos then acquired Brady Quinn this offseason, after he struggled last season in Cleveland. Quinn is clearly looking for a fresh start. Then comes the rookie. Tim Tebow posted great numbers for the Florida Gators in 2009. Clearly one of the top NFL storylines of the offseason has emerged, how does head coach Josh McDaniels manage his quarterback situation.
NFL Draft Round 1 | Mile-High Surprise |
After the jump, see how Durantula's D led to a Thunder win and a Rose blossoms for the Bulls in the United Center. In the MLB, the Milwaukee Brewers posted a scorecard for the ages against the Pirates.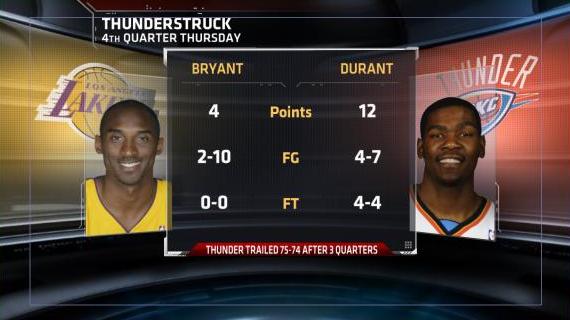 Thunder 101, Lakers 96 (Lakers lead series, 2-1)
Kevin Durant struggled early missing 13 of 17 shots in the first 3 quarters, but the Thunder trailed by just 1. In the 4th Durant turned it up while Kobe Bryant went ice cold. The Thunder get their first playoff win since moving to Oklahoma City and win in the city's playoff-hosting debut. The win is just the 2nd in their last 16 meetings with the Lakers (regular and postseason). Kevin Durant's 19 rebounds were a career-high, regular or postseason. Kobe Bryant shot 11 3's, tying a career playoff high. The Lakers are 0-4 in the postseason when Bryant shoots 10+ 3's.
Game Recap | Box Score | Highlight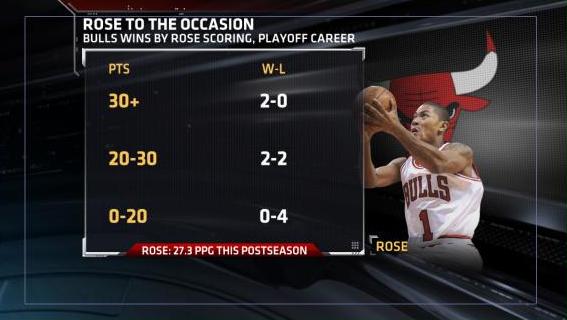 Bulls 108, Cavaliers 106 (Cavaliers lead series, 2-1)
Derrick Rose led the Bulls with 31 points, his 2nd-career 30-point game in the playoffs. The Bulls are 2-0 when he has a 30-point game in the postseason. Rose added 7 assists and is averaging 27.3 PPG and 8.3 APG in the series. Kirk Hinrich added 27 points in the victory. It was only the third playoff game in team history in which both starting guards scored at least 25 points.
Game Recap | Box Score | Highlight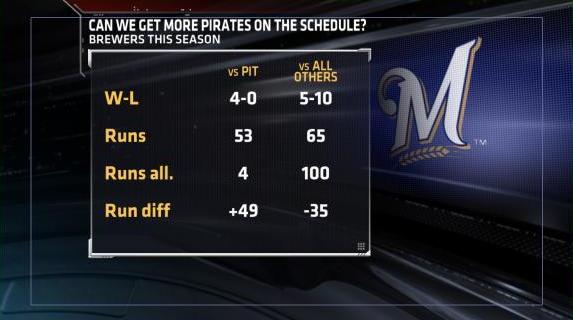 Brewers 20, Pirates 0
The Brewers tied their franchise record for the 2nd-most runs ever scored in a game. The 20-run shutout was the 5th-largest in MLB since 1900. Nine Brewers had multi-hit games, including starting pitcher Randy Wolf. In what was his 15th game of the year, Prince Fielder went deep for the 1st time this season; both of those numbers match his longest-career HR droughts to start a season (2008). Jim Edmonds hit his 1st HR since his last game in 2008 with the Cubs. The win mercifully ended the Brewers' 3-game sweep of Pirates in which they outscored Pittsburgh 36-1.