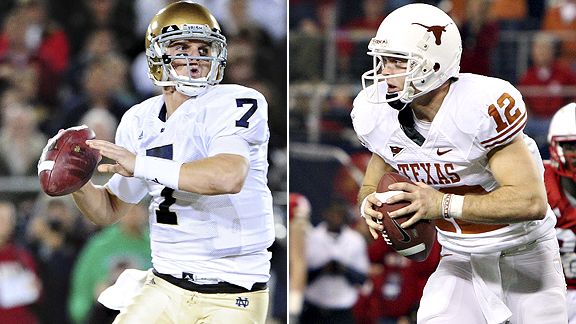 US Presswire
After The Wait - Clausen To Panthers And McCoy to Browns
Former Fighting Irish quarterback Jimmy Clausen was chose 48th overall by the Carolina Panthers -- more than 40 picks lower than some projected. Former Longhorns QB Colt McCoy finally was drafted 85th overall by Cleveland, one slot after his favorite target with the Longhorns, Jordan Shipley, went to Cincinnati.
The Dodgers placed outfielder Manny Ramirez on the 15-day disabled list with a strained right calf muscle. He reinjured it Thursday night in Cincinnati. He originally suffered the injury the first week of the season in Pittsburgh, aggravated it last week and missed two starts over the weekend against the Giants, then reinjured it running to first base on a single in an 8-5 loss to the Reds.
Patterson Definitely Leaving Kentucky
Some NBA draft news on this NFL draft day ... Kentucky's Patrick Patterson is turning pro. The Wildcats junior will skip his senior season and enter this years draft. He averaged 14 pts and 7 rebs, helping Kentucky to a 35-3 season under John Calipari. In addition to Patterson, Kentucky will also lose freshmen John Wall, DeMarcus Cousins, Eric Bledsoe and Daniel Orton to the draft.
After the jump ... Rams have no target for Sam Bradford yet, David Ortiz searching, Doug Collins coaching Hornets? Ozzie not pleased, Tiger blogging and guess what Brett Favre is saying.
No Game Plan, Yet, For Bradford
Oklahoma's Sam Bradford is now a member of the St. Louis Rams, but will he be the starting signal caller when camp begins? "There's no preconceived notion or game plan with Sam right now, or with the quarterback situation," coach Steve Spagnuolo told the St. Louis Post-Dispatch. "I think we've put ourselves in a situation where we can go either way. I feel real comfortable with some guys we've got on this football team." St. Louis was 1-15 last season. A.J. Feeley, Keith Null, and Mike Reilly are the other 3 QBs on the Rams roster.
David Ortiz Searching For Answers
David Ortiz is slumping, has been replaced in the lineup, and is now looking for answers. Ortiz met privately with Red Sox skipper Terry Francona, who tried to encourage the struggling slugger, according to the Boston Herald. "(Ortiz) has a lot of pride. He's been an unbelievable player here," said Francona. "I just wanted him to know we care about all our players, and we try to do what we think is right for our team."
Hornets Looking At Doug Collins?
The New Orleans Hornets have established preliminary contact with television analyst Doug Collins about their coaching opening, according to ESPN.com's Marc Stein. NBA coaching sources said Friday that Collins is among one of the high-profile candidates that the Hornets have contacted to gauge interest in the job. Team president Hugh Weber admitted he's not afraid to spend top dollar for a new coach saying, "I think we'd gravitate towards someone who's had success on the pro level."
White Sox manager Ozzie Guillen is embarrassed by his team's recent play, according to ESPNChicago.com. Following a 10-2 loss to the Rays Thursday, Guillen had seen enough. "I have to sit there and watch. You see the way they play! It's pretty bad," said Guillen, whose team also fell 12-0 to the Rays Wednesday. "Are they embarrassed about the way they play? I hope [so] because I am. It's 40-something degrees, and people can't pay to come out and watch this game and they are freezing their [butts] off watching this game. They should be embarrassed to the fans."
Tiger Woods is communicating with his fans through his blog. Woods posted comments on his website about a variety of topics including his appreciation of the fan support received during the Masters, improvements he's making in his golf game, and compliments to Masters Champion Phil Mickelson. Tiger also acknowledge LPGA star Lorena Ochoa, who recently announced her decision to retire.
Guess what? Brett Favre is still undecided about next season. NFL Network's Steve Mariucci, who was Favre's first quarterbacks coach in Green Bay, told WFAN Radio that he's still bothered by the ankle he injured in the NFC Title Game against the Saints. Mariucci said, "He's trying to heal up. His body is recovered except for that ankle. That's not quite ready yet. It's an ankle that he had surgery on twice before and it's still pretty puffy."
American and seventh-ranked tennis star Andy Roddick won't play in the Rome Masters, citing personal reasons. While this tournament is mandatory for top-ranked players, Roddick won't be fined because he is allowed one free exemption per year as a veteran with over 600 matches played on tour.
U.S. track star LaShawn Merritt, the reigning Olympic 400-meter champion, is accepting a provisional suspension after testing positive three times for a banned substance, according to USA Today. In a written statement Merritt described himself as a "strong advocate of fair competition ... I hope my sponsors, family, friends and the sport itself will forgive me for making such a foolish, immature and egotistical mistake."