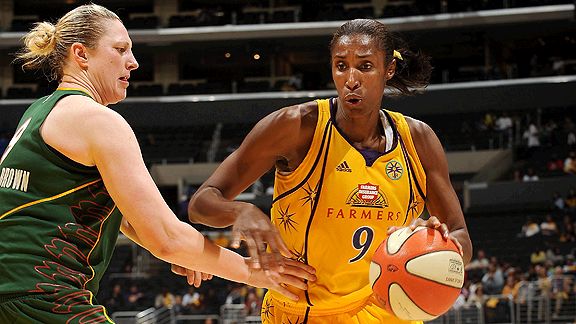 Andrew D. Bernstein/NBAE/Getty Images
April 24, 1996: Coming off the much-publicized gold medal run for women's basketball in the 1996 Summer Olympics, the NBA Board of Governors approved the concept of a national women's basketball association. The league would begin play in the summer of '97. Attending the press conference, Olympic gold-medal winners, Lisa Leslie and Sheryl "Female Michael Jordan" Swoopes were the first drafted into the fold.
The league officially tipped off on June 21st, when the New York Liberty took on the Los Angeles Sparks in front of a crowd of 14,284 cheering fans. Sparks forward, Penny Toler, would score the very first point in the league, but the Liberty would come out victorious 67-57.
Although there was initial fanfare, most critics believed the WNBA wouldn't survive its early years. And while several teams have folded, and roster sizes have been cut from 13 to 11, the association has survived its growing pains. The WNBA now includes thirteen franchises and has set precedents in a rights fee contract with ESPN and ABC as well as a signed collective bargaining agreement, both firsts for women's professional sports.