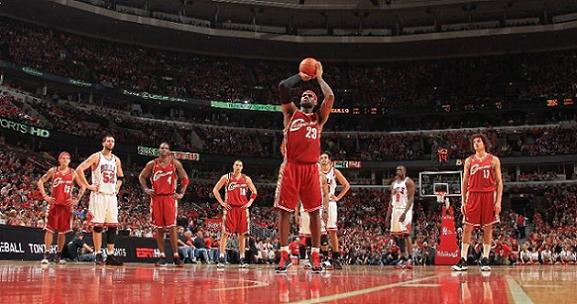 Joe Murphy/Getty Images
LeBron James had 37 points, 12 rebounds and 11 assists, Antawn Jamison added 24 points and the Cleveland Cavaliers beat the Chicago Bulls 121-98 Sunday afternoon to go up 3-1 in their first-round series.
Jeff Suppan To The Brewers Pen
Brewers right-hander Jeff Suppan has been removed from the rotation in the fourth and final year of his $42 million contract in favor of Chris Narveson. He went 0-1 with an 8.68 ERA in two appearances as the fifth starter, including being booed off the field after giving up six runs and 10 hits in 4 1/3 innings Friday. Brewers manager Ken Macha said he told Suppan that the move wasn't permanent.
Kentucky Derby Favorite Eskendereya Out
The favorite to win the Kentucky Derby next weekend was pulled out of the race by trainer Todd Pletcher. Eskendereya, the three-year-old colt has an "issue" with his left front leg that will keep him from racing in one of the most prestigious races of the season. Pletcher said he knew something was wrong after noticing swelling in the leg between the ankle and the knee on Sunday.
After the jump ... Denver only sees Tebow as a QB, Phoenix forces game 7, Kevin Harvick wins at Talladega, Suns close to an extension with Amare Stoudemire, George Karl watching his Nuggets from afar, and early 2011 NFL draft projections!
Broncos coach Josh McDaniels doesn't envision Tim Tebow as anything but a quarterback. In a five-minute interview, McDaniels said, "He's a quarterback," three times. McDaniels also said Tebow will be competing for the job that is currently occupied by Kyle Orton and added that he could potentially play in "wildcat" packages if he isn't playing otherwise. But the coach made it clear that Tebow's primary goal is to become a starting quarterback, no gimmicks attached.
Phoenix scored its first three goals on special teams and Ilya Bryzgalov made 31 saves in a 5-2 win over Detroit on Sunday that forced Game 7 in the first-round series. "Any time you can play in a Game 7, it's a game you'll remember," Coyotes coach Dave Tippett said.
Harvick Squeaks Out A Talladega Win
With a last-second pass of Jamie McMurray, Kevin Harvick snapped a 115-race winless drought with a victory Sunday at Talladega Superspeedway. It was the payoff for perfect strategy devised in conversations over the weekend with crew chief Gil Martin and their Richard Childress Racing team.
Suns, Stoudemire Talking Extension
After trying to trade Amare Stoudemire for the better part of two years, it seems like the Suns now want to keep him for the long term. According to Fanhouse.com, Phoenix has offered Stoudemire an extension that he said was "getting closer to where they should be." The five-time All Star is asking for a max contract and would likely get it if he entered the open market this summer.
George Karl Watching From The Sidelines
Nuggets coach George Karl, who has been out since March fighting neck and throat cancer, promised to return to the NBA as a "better ambassador to the game," saying the treatment was harder than he thought it would be. Speaking to ESPN's Rick Reilly at his home in Denver on Friday, Karl said watching the Nuggets games from home was not easy. "It's an awful feeling," he said. "It's not nervousness, it's scared. Fear. I don't like it. I mean, I've missed games, skipped games. I was just too stressed out to worry. The game gets off to a bad start, and I don't watch them at all."
Undrafted Jevan Snead Joining the Bucs
Ole Miss QB Jevan Snead was widely criticized for leaving school after a terrible junior season and the critics were proved right. Snead was not one of the 255 draft picks taken in the NFL Draft, but did sign with the Tampa Bay Buccaneers hours after it was completed. He will compete with Josh Johnson and Rudy Carpenter for a spot on the Bucs roster. "Once it gets past the fourth round, a lot of times it's just better to go undrafted," Snead's agent Jeff Nalley said. "Jevan's a smart kid and he understands that. With the Bucs, he's got a really good shot to make that roster."
Mel Kiper's Top 2011 Prospects
The 2010 NFL Draft hasn't been over for 24 hours but NFL Draft Insider Mel Kiper already has the top players of 2011 on his radar. No, he doesn't sleep. A year after only two QBs were drafted in the 1st round (only 1 in the top 20) Kiper has three QBs in his top 10 prospects of 2011, starting with Jake Locker from Washington.
The Associated Press contributed to this report.