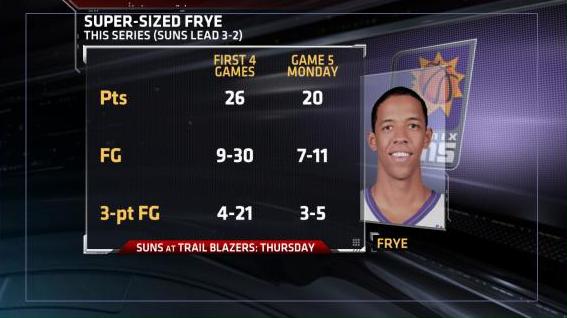 Suns 107, Trail Blazers 88 (Suns lead series 3-2)
SUPER-SIZED PERFORMANCE: Channing Frye was a non-factor in the first four games, shooting under 20 percent from beyond the arc. Monday he stepped up his game, scoring 20 points on 7 of 11 shooting including 3 three-pointers. Frye and teammate Jared Dudley combined to shoot 8-14 from 3-point range in the game after going 14-48 from behind the arc in the first four games of the series. The Suns are wining by an average of 22.3 PPG in this series, and are losing to the Blazers by an average of seven PPG.
Game Recap | Box Score | Highlight
After the jump, read how home-cooking may decide the Bucks vs Hawks series. In the MLB, Milwaukee owns the Pirates, Doc Holladay finally loses and more proof why Albert Pujols is a "Machine".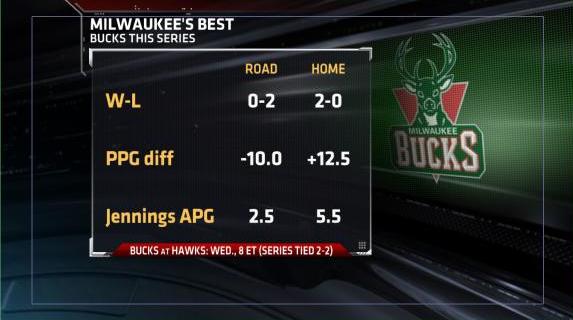 Bucks 111, Hawks 104 (Series tied 2-2)
It's been all about home-court advantage in the Bucks-Hawks series. Brandon Jennings scores a team-high 23 points. The rookie scored 22 total points for the Bucks in the previous two games after scoring 34 in the series opener. It's the first game in the series not to be decided by at least double digits.
Game Recap | Box Score | Highlight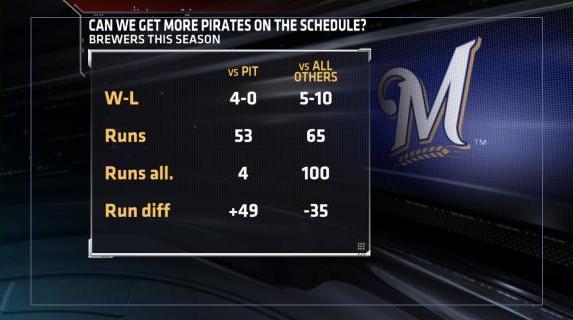 Brewers 17, Pirates 3
The Pirates have lost 7 straight overall and 22 straight at Miller Park - that's the longest active streak of any team vs any one opponent. Gregg Zaun tied career highs with four hits and five RBIs. The Brewers have won the latter two of those games by a combined score of 37-3. The last time a team won consecutive games against a team by that many runs was in 1950, when the Red Sox beat the St. Louis Browns 20-4 and 29-4, good for a margin of 41 runs.
Game Recap | Box Score | Highlight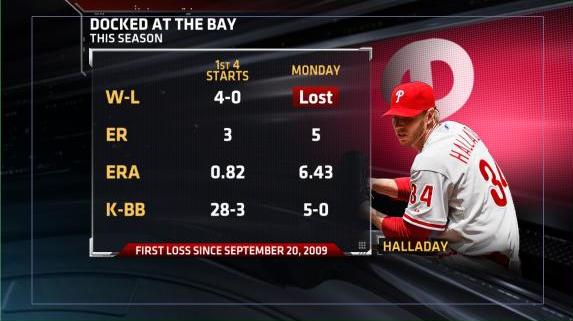 Giants 5, Phillies 1
Roy Halladay entered Monday's start in San Francisco nearly untouchable, going a perfect 4-0 with a miniscule 0.82 ERA. Monday the Giants scored 5 runs off Halladay, which is more than he allowed in 33 innings prior this season. "Doc" Halladay's loss is his first since September 20, 2009 (at Tampa Bay). Halladay falls to 0-2 career vs the Giants with a 7.23 ERA. Halladay also allowed 10 hits, the most since his last loss. The Phillies have lost three of their last four road games after winning seven of their previous nine on the road.
Game Recap | Box Score | Highlight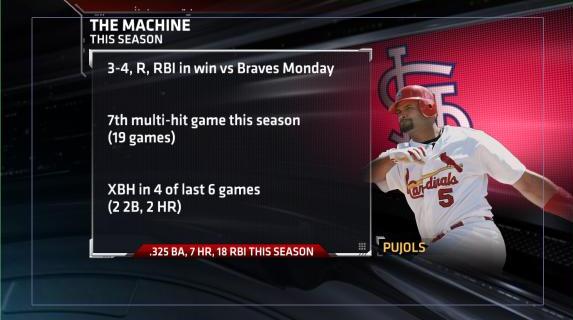 Cardinals 4, Braves 3
Cardinals slugger Albert Pujols went 3-4 with an RBI, and is six for eight in his last two games. In addition to the "Machine" producing for the Cardinals, Colby Rasmus homered and has 12 hits and four HRs during his seven-game hit streak.
Game Recap | Box Score | Highlight
Note: The Elias Sports Bureau and ESPN Stats and Information group contributed to this report.