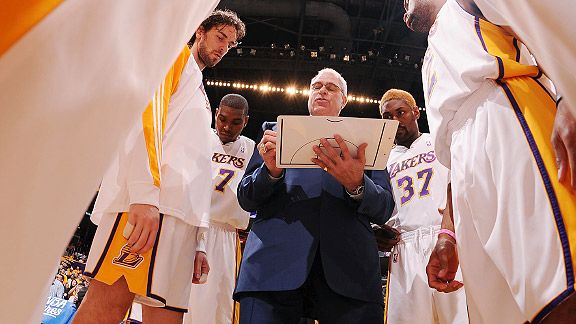 IT'S FAN-TASTIC!
The bad news for Lakers fans is that the Thunder is (are?) only the fifth team to level a series against a Phil Jackson-coached team at 2-2 after falling behind in said series 2-0. The good news for Lakers fans is that each of those Jackson-coached teams came back to win the series (twice with the Bulls and twice with the Lakers). And ahead of Game 5 tonight (10:30 pm ET), the best news for fans everywhere is that there are Lakers fans like this guy...
Thunder/Lakers Preview | Who is this guy?
More from The Rundown, including why it's important to get Steve Nash touches (and even more important to know what he's touching), and seventh heaven on the ice, after the jump.
239
Touches are important, especially for a point guard. And since the Phoenix Suns run their offense through Steve Nash, it's important for him to have a lot of touches. 239 seems about right, especially since we're talking about his number of high-fives during a game. Wait, what?
Read | Watch | Also, the Suns beat the Blazers by 19.
SEVENTH HEAVEN
Jaroslav Halak stopped 53 of 54 shots as the Canadiens beat the Capitals 4-1 to force Game 7 tomorrow night back in Washington. His 53 saves were the most by a goalie in a non-overtime playoff win in the NHL's expansion era. (That's since 1968). But why wait until tomorrow night to scratch your win-or-go-home hockey itch? There's a Game 7 tonight (9:00 pm ET) in Phoenix between the Coyotes and the Red Wings. The Yotes have never won a Game 7 since they joined the NHL in 1979 and called themselves the Winnipeg Jets. They're 0-4. That's not good. But worse is (are?) the baseball Giants. Even going back to their time in New York, they're 0-5 in Game 7 of a best-of-seven series. (And that even includes Game 8 of the 1912 World Series against the Red Sox, which they had to play since Game 2 ended in a tie.)
Caps/Habs Recap | Caps/Habs Highlights | Red Wings/Coyotes Preview