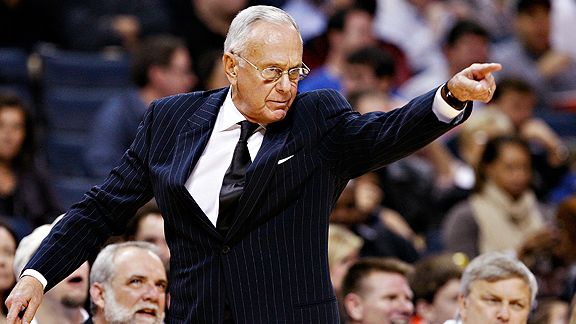 Ed Snider is the current chairman of the 76ers, and he's denying that any contact has been made with Bobcats coach Larry Brown regarding a return to Philadelphia. And he calls a Yahoo! report that Brown is attempting to return as president "total, unadulterated bull." He tells the Philadelphia Daily News, "I don't even know that we're interested. But if we were interested - and I don't know that we are - it would only be as a coach. And I don't know that we are."
More of what's happening At This Hour, including which NFL rookie jerseys are flying off the shelves, and what it might take for the Cardinals to lock up Albert Pujols, after the jump.
With the NFL Draft in the books, the jerseys that represent hope for the future are flying off of the shelves. And in the early going, Tim Tebow's new Denver shirt leads all rookie jersey sales on NFL.com. He's followed in the top five by Ndamukong Suh, Sam Bradford, Eric Berry and Dez Bryant. And while Tebow is keeping his uniform number from Florida, others are changing it up:
- Sam Bradford will wear No. 8 for the Rams. (He wore No. 14 at Oklahoma.)
- Jimmy Clausen will wear No. 2 for the Panthers. (He wore No. 7 at Notre Dame.)
- Demaryius Thomas will wear No. 88 for the Broncos. (He wore No. 8 at Georgia Tech.)
- Jahvid Best will wear No. 44 for the Lions. (He wore No. 4 at Cal.)
- Dez Bryant will wear No. 88 for the Cowboys. (He wore No. 1 at Oklahoma State.)
On the heels of the $125 million extension that the Phillies used to lock up Ryan Howard, what could that mean for Albert Pujols? The Cardinals slugger's contract expires after this season, and while the club holds an option for next season, the preference is to get him to sign a long-term deal this winter. "Albert's got a couple more MVPs, a batting title, and put up all the same numbers that Howard has, maybe a little better. I'd say that Albert is going to make a little more than that," Chipper Jones told the St. Louis Post-Dispatch. And his manager wasn't afraid to float a number. "Fifty million dollars a year," said Bobby Cox. "At least."