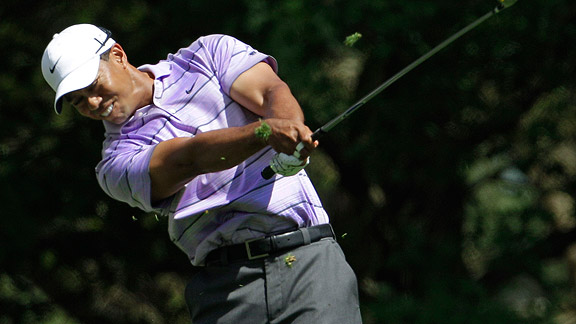 Tiger Woods was the first on the tee this morning at Quail Hollow in Charlotte to participate in the pro-am ahead of this weekend's PGA Tour event. It's his second tournament of the year, and he was surrounded by media. However, the gallery wasn't as large as expected. He will address the media after the round ends shortly after noon. SportsCenter will bring it to you live.
More of what's happening At This Hour, including Dwight Howard complaining about officials and a key suspension ahead of the Champions League final, after the jump.
SUPERMAN ANGRY ABOUT KRYPTONITE
Dwight Howard was fined $15,000 in November for critical comments on his blog about officiating. And he's at it again, ahead of the second round of the playoffs. "Ya'll know that that series against Charlotte drove me crazy. I mean, it was almost comical at times how I was getting fouls called on me. There was nothing I could do out there and I felt like I couldn't move without getting that whistle blown on me," Howard said. "I'm not looking to say anything to get myself in trouble with the league, but I just don't see other star players getting called for fouls the way I get them. No star player in the league is outta games the way I am. I even talked to Patrick Ewing about his career and he said he never had foul trouble like what I'm going through. I gotta say this is the most frustrating stretch of my career. I've never been through four games in a row like that. But hey, we won the series and we're moving on."
RIBERY TO MISS CHAMPIONS LEAGUE FINAL
Bayern Munich winger Franck Ribery has been handed a three-game ban by UEFA after being sent off in the first leg of the Champions League semifinal against Lyon. He did not play in yesterday's return leg and will miss the final in Madrid on May 22nd. He has three days to appeal. Barcelona hosts Inter Milan in the second leg of the other semifinal this afternoon.