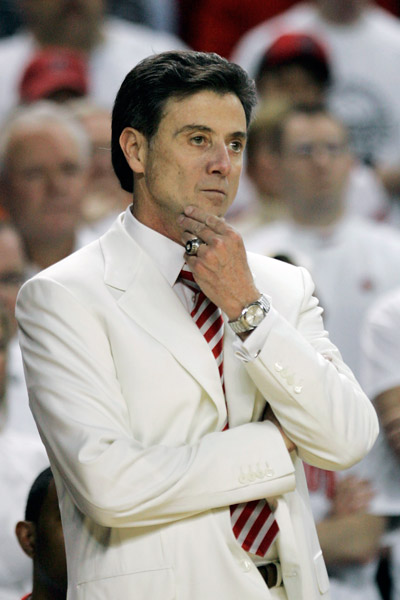 Photo: AP Photo/Ed Reinke
Hmm, is it too late for me to market a white suit replica?
Another "Black Friday" means another day of finding parking and braving the lines at your local mall. Most people will be looking to bargain shop for the latest electronic gadget, but we came up with some other alternatives that might top off any sports fans' shopping list.
- Mets Engraved Glass Bat: If you have $9499.99 lying around you could do a lot worse. And we appreciate the seller pointing out that it's "regulation" length, as if using it would ever become an option. "It's mostly a display piece, but in a pinch, ... you never know."
-Denver Nuggets: Beat L.A. Playoff Shirt: What Nuggets fan wouldn't want to commemorate their 6 game loss to the Lakers last year?
- MLB Superstars DVD: The DVD, which features Pudge, A-Rod, Bonds and Clemens, claims that "this Must-Have DVD reveals secrets of MLB's top stars." ... Thinking. ... Giggling. ... No comment.
- Seattle Mariners Tree Ornament: Pretty awesome stubble on that one guy.
- Reebok Super Bowl XLIII Replica City Name Jersey: This gift is perfect for all of your friends who love the Super Bowl but never have a rooting interest in either team. All those friends who want a jersey that says, "I don't know anything about football. I just love Super Bowls!" You know, those friends.
- Astros Santa Hat: It's a simple equation, really. Astros Santa hat + Eggnog = Life of the Party
- Atlanta Braves Women's Organic Tee: Nothing says "Environmentally Dedicated Super Fan" like a recycling logo surrounding your team's insignia. And ultimately we're all rooting for Mother Earth, aren't we?
- Washington Nationals Door Mat: Since everyone else is using them as one, you should too!