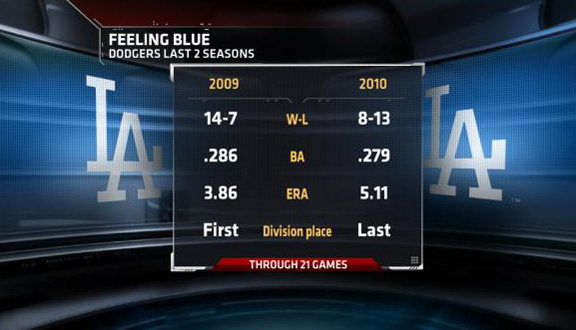 LIGHTER SHADE OF BLUE: What a difference a year makes. Through 21 games last season the Dodgers were 14-7 and leading the NL West. This season they're 5 games below .500, have a lower team batting average and higher team ERA. Adding salt to the wound, they're in the NL West cellar. The Dodgers have lost 4 straight and are 3-7 in their last 10 games. They begin a four game series with the Pirates tonight in Los Angeles.
MLB Standings | ESPNLosAngeles.com: Colletti, Kemp discuss comments
After the jump, more amazing numbers highlighting Tampa's turnaround, why the Mets love home cooking and inside the NBA playoffs.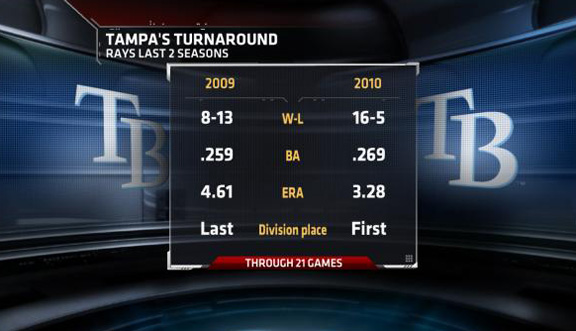 RED-HOT RAYS: We showed you how bad the Dodgers have been through the first 21 games, well the Rays have been the exact opposite. Through this point in the season the Rays were 8-13 and in last place in the AL East. This year the Rays have a higher team batting average, lower ERA and are sitting atop their division.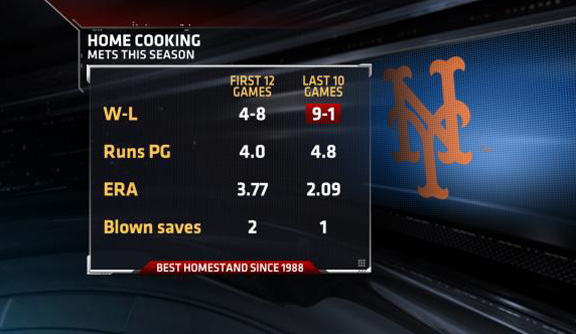 HOME SWEET HOME: The Mets complete their home-stand at 9-1, their best home-stand since 1988. They do it with great pitching as they had a 2.09 ERA during the home-stand. With their great run they lead the Phils by a half-game in the NL East.
ESPNNewYork.com: Mets ready to take revival on road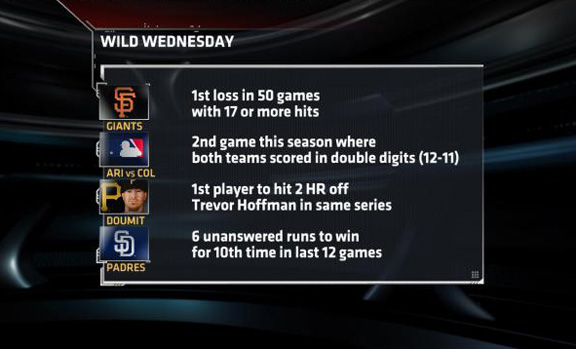 WACKY WEDNESDAY: It was a wild day in baseball. The Giants and Phillies had a back-and-forth affair, snapping the Giants' 49-game winning streak when recording 17+ hits. The D-Backs and Rockies slugged it out at Coors Field, while Ryan Doumit punished Trevor Hoffman yet again, the second straight night the catcher has hit a HR off the legendary closer.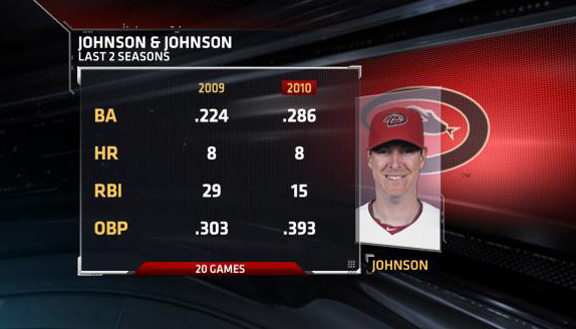 DIAMOND IN THE ROUGH: Kelly Johnson is on pace to shatter his numbers from last season and he's only 20 games in to 2010! His batting average has increased by over 60 points. He's already matched his home run total from last season and he's only 14 RBI shy of tying his 2009 season total.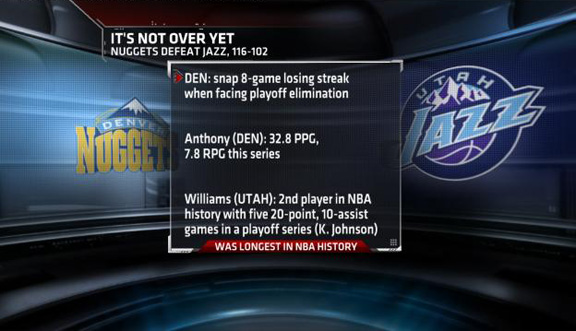 FIRST ONE TO 4 WINS: In the NBA, the Nuggets snap an 8-game losing streak when facing playoff elimination which was the longest in NBA history. Melo is averaging 32 and just under 8 boards this series. Wednesday he notched his 10th career playoff double-double. Deron Williams continues his hot play becoming only the 2nd player in HISTORY with five 20-point, 10- assist games in a playoff series.
Game Recap | Box Score | Highlight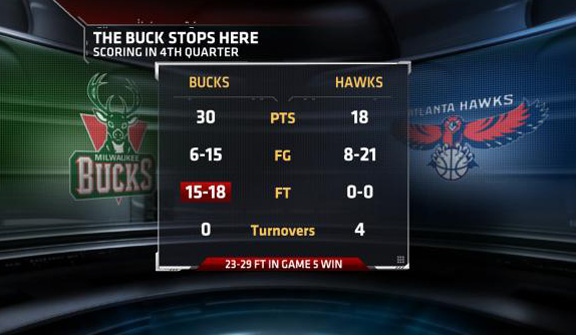 SHUTDOWN D: The Hawks led by 8 entering the 4th, but were outscored by 12 in the final quarter. The key stats were free throws and turnovers. The Bucks were 15-18 from the line while the Hawks didn't get there once. The Hawks also turned the ball over 4 times while the Bucks didn't give it up once in the 4th.