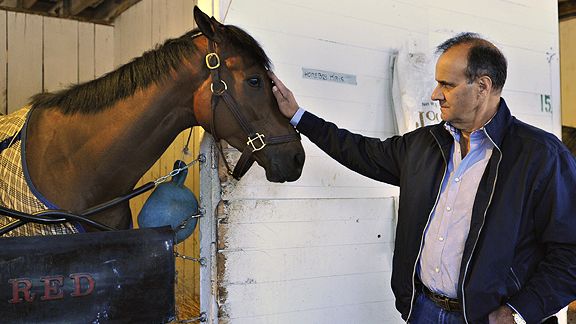 AP Photo/Gail Kamenish
"You must be tired of eating all those oats. How would you like some Big League Chew?"
The 136th Kentucky Derby is just a day away. But just because you got your mouth washed out with soap as a kid, doesn't mean you should bet on Backtalk in tomorrow's "Run for the Roses." With 20 horses in the field, you only have a 5% chance at picking the Derby winner. Instead of wagering your hard earned cash on an unsure thing, opt for these Kentucky Derby food picks to commemorate tomorrow's race. A pack of 10 will cost you $5.99, but they're guaranteed to enhance any cheese and cracker plate.
If food picks aren't your thing, don't worry; we've got an awesome item for every major sports event this weekend.
Friday, April 30 - Montreal Canadiens at Pittsburgh Penguins at 7 (ET) on Versus:
Montreal Canadiens Dancing Hockey Player: Squeeze his hand and he dances to "We Will Rock You." Unfortunately for Habs fans, Bryan Adams' (he's Canadian) "Cuts Like a Knife" was not an option.
Friday, April 30 - Denver Nuggets at Utah Jazz at 10 (ET) on ESPN2:
Jerry Sloan Portrait - We know it's just a drawing, but it's proof that pro sports' longest tenured coach has in fact smiled.
Saturday, May 1 - 136th Kentucky Derby at 6:25 (ET) on NBC:
RC Cola 1974 Kentucky Derby 100th Anniversary Bottle - We'd like to know what 36-year-old cola tastes like, but we're afraid to take the plunge. If you do decide to uncork this vintage soda, please make sure you employ the buddy system and that said buddy knows the number for poison control.
Saturday, May 1 - NASCAR Sprint Cup Series at Richmond at 7:30 (ET) on FOX:
Cole Trickle Tee-Shirt - Unfortunately, the Mellow Yellow suit is out of stock right now. This tee is the next best thing from NASCAR's fictional racing legend.
Saturday, May 1 - Floyd Mayweather vs. Shane Mosley at 9 (ET) on Pay-Per-View:
Floyd Mayweather Ceramic Tile - The perfect item for all you Pretty Boy Floyd fans looking to build your Mayweather shrine. We recommending picking up at least 50 and flooring your bathroom with these ceramic gems. That way, every time you wash your hands you can say you stomped on the champ.