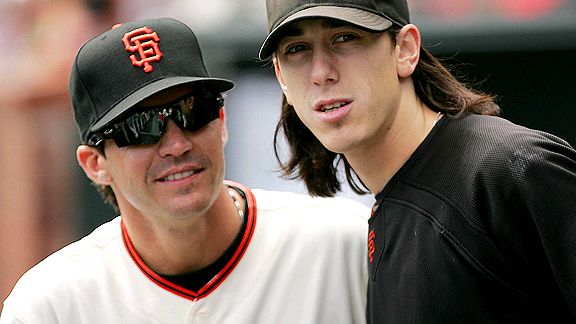 Ezra Shaw/Getty Images
"That's what I hate about these major league batters - I get older, they stay the same age."
Barry Zito of the San Francisco Giants is off to a fast start this season, further establishing himself as one the game's premiere left-handed pitchers while possibly throwing the ball better than at any other point in his 11-year career. Zito's also in the midst of a seven-year, $126 million contract that will keep him employed by the Giants through 2013. But that hasn't stopped him from thinking about what he'll be doing when 2014 eventually rolls around. Somewhat surprisingly, Zito still wants to pitch into the distant future. And beyond.
Zito, who won't turn 32 until May 13th, is one of 12 active pitchers that have thrown more than 2,000 innings in the majors (Mark Buehrle of the Chicago White Sox is the only member of that group that is younger). Phillies starter Jamie Moyer, the senior leader of the 2,000 inning club, is also someone whose career Zito would like to emulate. Moyer (aka "Old Man Baseball") has played 23 seasons in the majors and looks to join the uber-exclusive 4,000 inning club later this season.
Zito says that he wants to pitch "as long as my body will let me and as long as somebody wants me to be on their team." Let's take a look at some of the oldest pitchers ever to throw in the big leagues and see what Zito may learn from the masters of baseball career immortality.
Satchel Paige (59 years old). Although Paige didn't debut in the major leagues until he was 42 years old, he still made an enduring contribution to the game. Paige also provided his own "Rules for Staying Young," including such gems as "If your stomach disputes you, lie down and pacify it with cool thoughts." That should be no problem for Zito, who practices yoga. Check.
Nick Altrock (57 years old). Seriously, this lefty's real name was "Alt rock." Perhaps not since Joey Fatone was the "Fat one" in *NSYNC has a name been so symbolic. Known alt rocker and guitar player Zito has this one easily covered.
Jack Quinn (50 years old). Quinn played for so long that he ended up being one of the last pitchers to be grandfathered in with permission to throw the spitball pitch after it was banned in 1920. Unfortunately, Zito can't rely on the spitter these days, but at least he has that sweet curve to fall back on.
Hoyt Wilhelm (49 years old) and Phil Niekro (48 years old). We'll group these two together because they share the same secret to years of pitching success: the knuckleball. Maybe they could teach 43-year-old knuckleballer Tim Wakefield a thing or two, but Zito may be out of their reach. Unless, of course, they also raised sea horses.
Jamie Moyer (47 years old). While we're still not convinced that Moyer is even the oldest pitcher on his own team (we're looking at you, Jose Contreras), we think we've found the secret to his success. It probably has something to do with the good karma of being one of the all around good guys in baseball, evidenced by the Moyer Foundation. This bodes well for Zito, as his Strikeouts for Troops is equally noble.