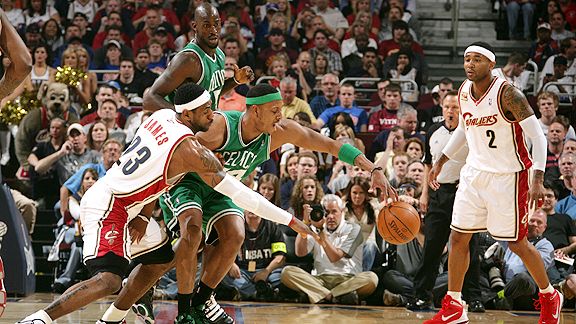 David Liam Kyle/NBAE via Getty Images
Boston Celtics vs Cleveland Cavaliers - Game 2 - (Cavs lead 1-0)
8:00 PM ET, May 3, 2010 -- Quicken Loans Arena, Cleveland, OH -- TNT
The Cavaliers took Game 1, which is good news for them. They are 8-0 all-time in best-of-7 series when winning the first game (7-0 with LeBron James). Cleveland has won six straight and 13 of its last 14 home-playoff games dating back to 2008 Conference Semis. Boston has lost six-straight playoff games at Cleveland. The game turned after Mo Williams threw down a one-hander over Paul Pierce, before finishing with 20 points. Cleveland is 5-1 when Mo Williams scores 20+ in a playoff game. How important is Game 2? Well, Boston has lost six straight best-of-7 series when trailing 2-0 and is 1-7 all-time when facing such a deficit.
Game Preview: Celtics vs Cavaliers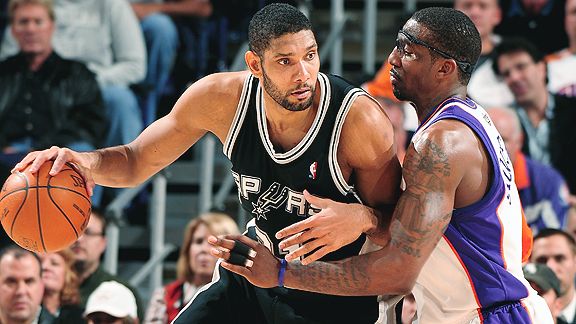 Harry Gossage/NBAE/Getty Images
San Antonio Spurs vs Phoenix Suns - Game 1
10:30 PM ET, May 3, 2010 -- US Airways Center, Phoenix, AZ -- TNT
The Suns advance to the Conference Semifinals for the first time since 2007, where they will meet the Spurs (who eliminated them in 2007). The Spurs have advanced to the Conference Semis in 11 of Tim Duncan's 13 seasons in the league. This will be the 10th time these teams have met in the last 19 postseasons. In the last 20 postseasons, no other matchup has occurred more than seven times. Amare Stoudemire has a 24.6-point playoff average against the Spurs. Not including his rookie season of 2003, Amare's average jumps to 28.8. This regular season, as Phoenix won two of three from the Spurs, Stoudemire averaged 32.7 points and 11.3 rebounds.
Game Preview: Spurs vs Suns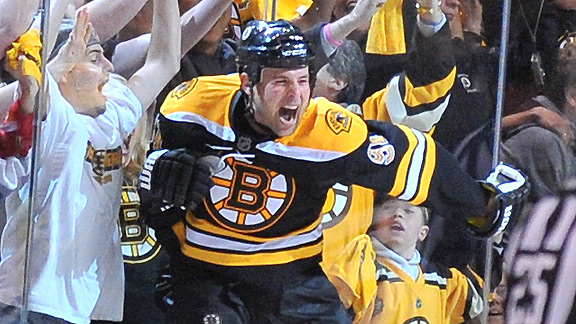 Brian Babineau/NHLI/Getty Images
Philadelphia Flyers vs Boston Bruins - Game 2 - (Bruins lead 1-0)
7:00 PM ET, May 3, 2010 -- TD Garden, Boston, Massachusetts -- Versus
The Bruins go for a 2-0 lead tonight, and are 20-6 all time in postseason series when up 2-0. Marc Savard, who hadn't played a game since his March 7 concussion, returned to the ice and provided both energy and the game-winning goal Saturday. The Flyers admitted they were sloppy to start Game 1, and will look for a sharper performance tonight, in all three periods. The Flyers went eight days without a game after eliminating the New Jersey Devils in five games. The Bruins had four days off after their six-game victory over the Buffalo Sabres. The rust, if any, should be gone for the Flyers tonight.
Game Preview: Flyers vs Bruins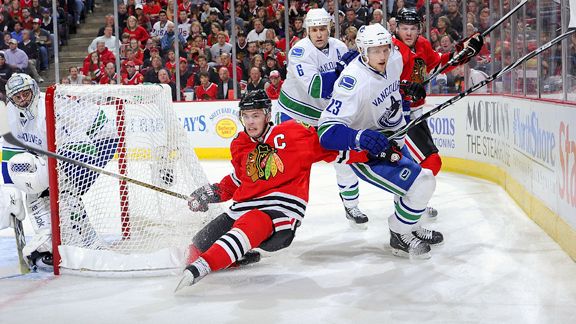 Bill Smith/Getty Images
Vancouver Canucks vs Chicago Blackhawks - Game 2 - (Canucks lead 1-0)
9:00 PM ET, May 3, 2010 -- United Center, Chicago, Illinois -- Versus
The Blackhawks try to avoid losing back-to-back home playoff games for the first time since 2002 vs Blues (lost 1st round series 4-1) when they face-off against the Canucks tonight. To do so, Chicago needs to figure out Roberto Luongo, something they failed to do in the opener. Despite a storm of shots early on, Luongo made 17 of his 36 saves in the first 20 minutes of play, and denied two power-plays. Vancouver used its speed and depth, getting scoring from all four if its lines to claim Game 1. The Blackhawks also lost the first game of the previous round at home to Nashville before capturing the series in six games.
Game Preview: Canucks vs Blackhawks
Note: The Elias Sports Bureau and ESPN Stats and Information group contributed to this report.