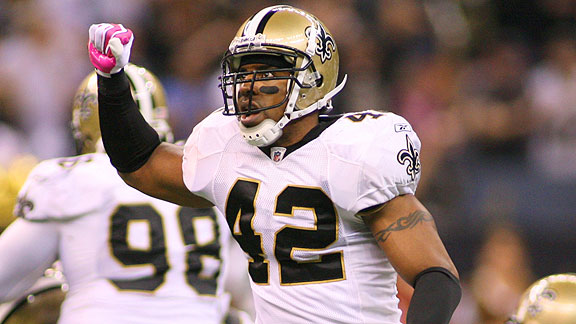 John David Mercer/US Presswire
Sharper Staying in the Big Easy
Safety Darren Sharper has agreed to a one-year contract with the Super Bowl champs. Sharper was looking for a multi-year contract, while the Saints were holding out for a one-year deal. Despite being 34 years old, the five-time Pro Bowler led the NFL with 9 INTs last season in just 14 games.
Monday was quite a day for Boston. The Bruins kicked things off with a 3-2 win over the Flyers to take a 2-0 series lead. The Celtics used a 32-12 3rd quarter to sprint past the Cavaliers, 104-86, tying their series at 1-1. Then later, the Red Sox responded to GM Theo Epstein's call for better play by crushing the Angels 17-8. Every Sox starter had at least 1 hit.
Jackson on, Van Gundy Off Sixers Wish List
A source told the Philadelphia Daily News that the Sixers are scheduling a meeting with Mark Jackson to discuss their head coaching position. They also reached out to Jeff Van Gundy, who told them that he was not interested in a return to coaching at this time.
After the jump: USC's Barkley hurt, Sox hero Roberts has cancer, Rangers sale latest, FedEx ships out of the Orange Bowl, and Tim Welsh resigns from Hofstra
USC quarterback Matt Barkley will have his throwing hand examined on Tuesday. Barkley suffered the injury during the Trojan's final spring practice Saturday. After releasing a pass that turned out to be a 41-yard TD to WR Travon Patterson, the freshman starter hit his hand on the helmet of DT Jurrell Casey.
Roberts Diagnosed with Lymphoma
Dave Roberts, one of the heroes of the Boston Red Sox World Series win in 2004, has been diagnosed with Hodgkin's lymphoma. Roberts was originally diagnosed in March. He says the cancer was caught early and that he has a good prognosis for recovery.
Attempting to finalize a deal to sell the team, MLB may seize ownership of the Texas Rangers. A group headed by Rangers team president Nolan Ryan and Pittsburgh attorney Chuck Greenberg is trying to buy the team and the seizure by MLB would reportedly help the group avoid creditors blocking the agreement.
FedEx is shipping out of its 21-year association with the Orange Bowl, according to the Sports Business Journal. FedEx has informed ESPN that it will not renew its entitlement of the Orange Bowl, ending what was the longest-running title sponsorship of a BCS game. The company was not interested in a larger college football platform. ESPN has begun negotiations with other brands.
Tim Welsh has resigned as Hofstra's men's basketball head coach. The announcement comes three days after he was arrested and charged with DWI on Long Island. Welsh, who worked as an analyst at ESPN, was hired by Hofstra on March 31st. The school says they accept his resignation "in the best interests of the university and of the men's basketball program."