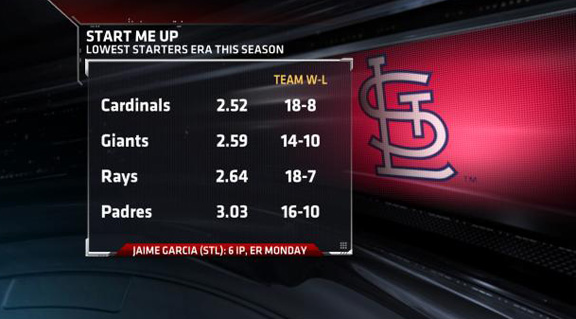 ARMS RACE: The Cardinals now with a 2.52 starters ERA is the lowest in the majors. They are followed by the Giants, Rays and Padres. Not surprisingly all 4 of these teams sit either first or second in their respective division. Look at the ERA's of the Cardinals starting 5: Chris Carpenter (2.84), Adam Wainwright (2.13), Kyle Lohse (5.28), Brad Penny (1.56), Jaime Garcia (1.13).
Game Recap | Box Score | Highlight | MLB Standings | Garcia allows 1 run through 6 as Cardinals prevail
After the jump, see who's the front-runner to win the NL Cy Young award and his name is not Halladay, plus we go inside Jake Peavy's split personality.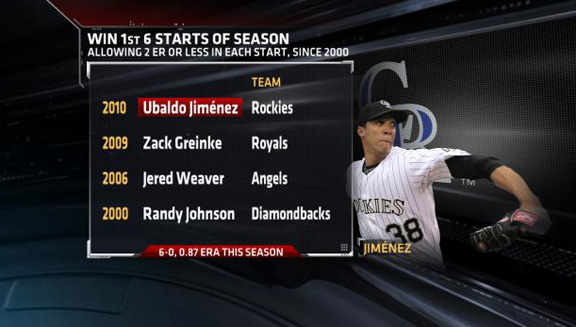 CY YOUNG FRONT-RUNNER: What a start to the season for Colorado's Ubaldo Jiménez. He's won each of his first 6 starts and has allowed 2 earned runs or less in each of those. He's just the 4th pitcher to do so since 2000. Zack Greinke did the same thing last season en route to winning the AL Cy Young.
Game Recap | Box Score | Highlight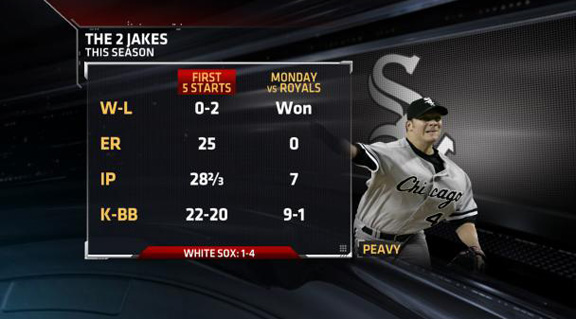 BACK ON TRACK: Jake Peavy was dominant in his effort Monday night against the Royals, after stinking up the joint in his first 5 starts of the year. He had a season-high 9 strikeouts and didn't allow a run to cross in this game. He finally showed signs of being the pitcher he and the Chicago White Sox hoped for when they acquired him from San Diego.
Game Recap | Box Score | Highlight | Peavy fans nine in best start of season for White Sox
RED SOX OFFENSIVE EXPLOSION: The Red Sox offense finally broke out on Monday. In their first 25 games, the Sox averaged 4.6 runs per game and 1.3 homers per game. They out-did those numbers in the 6th inning alone against the Angels staff Monday night.
Game Recap | Box Score | Highlight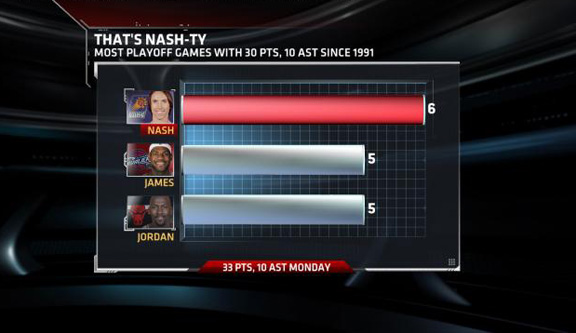 SHARING THE LOVE: In the NBA, Steve Nash leads the Suns over the Spurs with his 6th career 30-point, 10-assist playoff game. Since 1991, Nash has more such games than any player in the NBA. Tied for 2nd over that span, LeBron James and Michael Jordan with 5 apiece.
Game Recap | Box Score | Highlight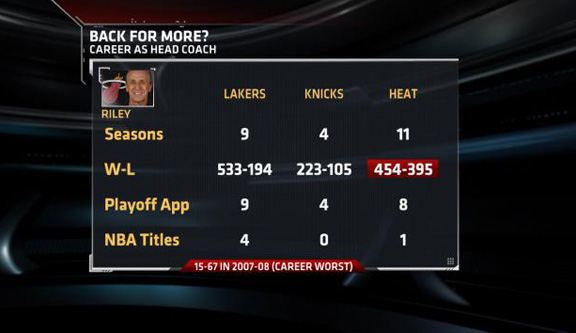 TURN UP THE HEAT: Pat Riley is already a Hall-Of-Fame coach, he was awarded that honor back in 2008. That year, he was coming off of his worst record on the sidelines: 15-67 with the Heat. He won 4 titles with the Lakers back in the 1980s.
NOTE: The Elias Sports Bureau and ESPN Stats and Information Group contributed to this report.