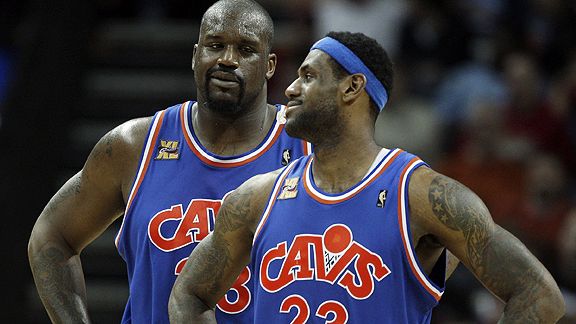 AP Photo/Chuck Burton
"Hey LeBron, your friend Piven called, he said Urlacher will pick you up at 8."
While the NBA Playoffs continue to roll along full steam ahead, there's one non-game day that fans keep circling on their calendars: July 1st. That's the day that NBA MVP LeBron James will become a free agent. What happens next is really anyone's guess (David Stern has gone on record saying that he hopes LeBron stays in Cleveland). In case you're wondering, that loud "Thank you, Dave!" you just heard came from northern Ohio.
Outside Cleveland, though, NBA cities with cap space available are already putting on the full court press. While NBA rules allow Cleveland to offer LeBron more money and a longer contract than any other team, Chicago appears to have developed its own competitive strategy in the LeBron sweepstakes. Step one, recruit a larger than life professional football player. Step two, recruit a smaller than life professional actor. Done and done.
As it turns out, when LeBron was in Chicago last week for the first round of the NBA Playoffs, he was accompanied to dinner by a notable Chicago football/acting duo. No, it wasn't Mike Ditka and John Malkovich - though, admittedly, that would have been awesome. The hospitable locals in this instance were none other than Brian Urlacher and Jeremy Piven.
Urlacher and Piven treated LeBron to a juicy steak at Gibsons before the Cavs dismantled the Bulls in Game 4 of the first round. The best part for the high school-to-NBA superstar? LeBron didn't have to worry about any NCAA sanctions if he let the guys pick up the tab on his $94 "Big Porterhouse."
While we can only guess that Urlacher opted for a T-Bone, we are absolutely certain that Piven didn't order the fish. Or the soy milk. Besides what was probably consumed at the table, we are really left with nothing but questions.
Like why Urlacher and Piven? Are these really the first two people the city of Chicago had on the list? Were Sweet Lou Piniella and Jim Belushi not available? Or have they already been scheduled to serve as Dwyane Wade's personal welcoming party?
And what can Urlacher and Piven possibly do or say to get LeBron to commit his basketball services to the Windy City for the foreseeable future? Did Urlacher explain the benefits of being a big-time athlete in town while Piven recreated his Ari Gold character from "Entourage" to convince LeBron to sign?
Just think, we're still almost two months away from LeBron actually declaring and already the wooing has begun. We can only guess what will happen once summer actually gets here.