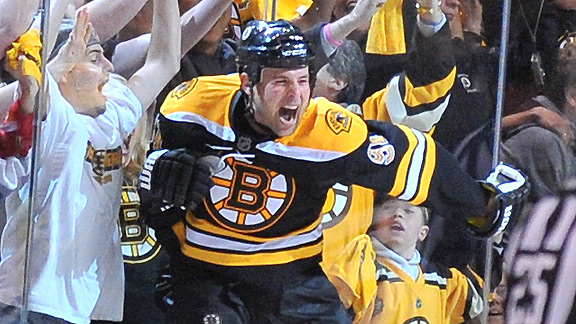 Brian Babineau/NHLI/Getty Images
The Bruins' Marc Savard, inexplicably caught on film in his physical form.
In the biggest whodunit whodunwhat of the 2010 NHL Playoffs, Boston's Marc Savard downplayed accusations that he chomped on the finger of the Flyers' Daniel Carcillo. Instead, the Bruins' forward claims Carcillo put his fingers into his mouth during the Game 2 fracas, which started after Savard slashed goalie Brian Boucher's glove. "I think he tried to pull my teeth out," Savard said. "If that's biting, I don't know what to say." Carcillo wasn't buying it. "Last time I have been bit was in grade school. It's not a good feeling," he said. We'd be more inclined to give Savard the benefit of the doubt if he hadn't been suspended in 2003 for gnawing on the Avalanche's Darcy Tucker.
Perhaps this is part of some epidemic going around the league this season. In January Flyers' forward Arron Asham accused Penguins winger Matt Cooke of a chomp, while back in October Pittsburgh defender Chris Letang inferred Philadelphia winger Scott Hartnell did the same. "Men don't bite," said Carcillo. Is he on to something here? Are we dealing with a group of Northeastern-based creatures who've become more hockey players than men -- wereHockey players, if you will? We've compiled a list of actions you should take to protect yourself against this Pittsburgh/Boston/Philadelphia scourge:
1. Bathe yourself with purified water from Lake Titicaca or Lake Victoria (about as far away from a rink as we'd expect).
2. Make a necklace out of herbs hated by hockey players everywhere, namely cilantro.
3. If you see a Matt Cooke or Marc Savard, his only weaknesses may be a silver-coated puck or a call from Gary Bettman.
4. If bit by a wereFlyer, werePenguin or wereBruin, watch for symptoms such as a listening to Kate Smith, stepping on dressing room logos or an abiding hatred for the Canadiens.
5. If symptoms persist, have friend secure you to chair in front of a TV with "The Tradition of the Toronto Maple Leafs" DVD on repeat. You should be cured of your hockey curse.
The Bruins meets the Flyers in Philadelphia for Game 3 on Wednesday at 7 ET.