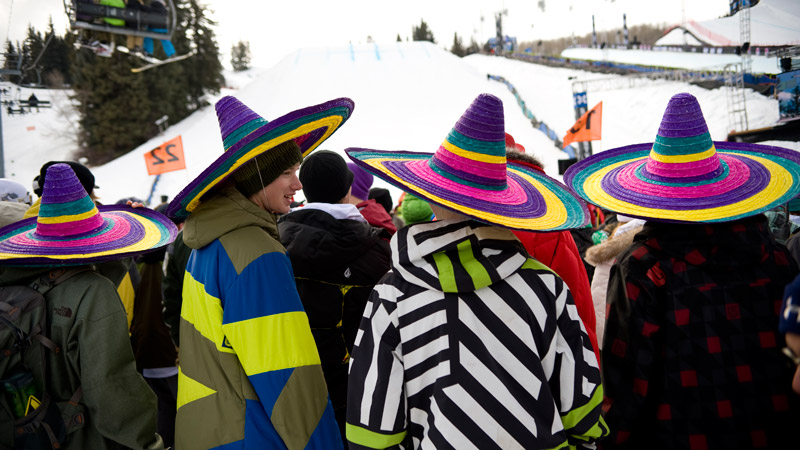 Josh Duplechian
"I told you these skiers liked to party."
Star Wars Day ("May the 4th be with you") is officially over, but that doesn't mean the partying stops. Trade in your Jedi robe for a hot new sombrero and celebrate Cinco de Mayo! Unfortunately for Rangers fans, Texas will be visiting Oakland today so unless you trek out to California, your Michael Young Los Rangers jersey will have to stay in the closet. Holiday-themed apparel is one way to go, but with a celebration as wild as Cinco de Mayo, shouldn't the sports world get a little crazy? We know it's kind of last minute, but we came up with a few ideas on how to spice up today's festivities:
On-Deck Piñatas: Hang a piñata in the on-deck circle and blindfold the batter on-deck. To make things a bit more entertaining, the player gets one swing and only after he's performed 30 seconds of dizzy bat. Teams can fill their piñata with whatever they'd like, but we recommend packs of Big League Chew and Bazooka Joe. All candy proceeds go to fans.
Margarita-Ade: Gatorade has made just about every other flavor, why not margarita? It would be alcohol-free of course ... we wouldn't want anyone dunking under the influence in tonight's Spurs versus Suns game.
Sombreros: Ball caps, eye black, shades ... baseball players will do anything to keep the sun out of their eyes. But wouldn't it make more sense to just wear a sombrero? Former Padre Bip Roberts must think so; he's already tried it!
Halftime Limes: Most soccer players eat oranges at halftime, but today they'll be quenching their thirst with some of the best green citrus available (salt is optional as always).
Tequila-Trick: More specifically, the worm at the bottom of that bottle. We know that it's customary to throw sombreros hats and that the Red Wings are partial to throwing octopi, but we think there's a real future here. There's two NHL Game 3's tonight: Bruins at Flyers and Blackhawks at Canucks. When a player scores a goal, honor him by throwing those little tequila worms onto the ice.
Happy Cinco de Mayo everyone. Now go forth and celebrar.