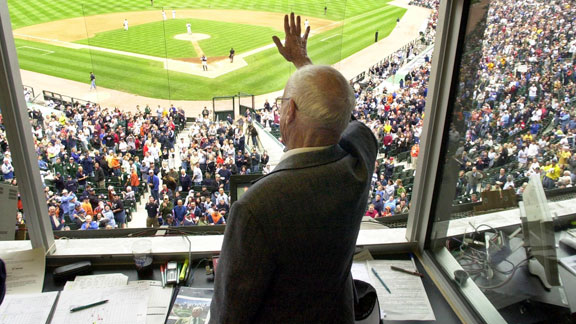 Carlos Osorio/AFP/Getty Images
After a long battle with cancer, beloved Tigers broadcaster Ernie Harwell died in his home Tuesday at the age of 92. Harwell was the voice of the Tigers for 55 years, ending his career after the 2002 season. He also became the only announcer in MLB history to be traded for a player when the Brooklyn Dodgers needed one in a pinch.
Bud Selig (MLB Commissioner) - "Without question, Ernie was one of the finest and most distinguished gentlemen I have ever met. On behalf of Major League Baseball, I extend my deepest sympathy to Ernie's beloved wife Lulu, his four children, his friends and his countless admirers throughout our game."
Vin Scully (HOF Dodgers Broadcaster) - "He was with the Dodgers in '48 and '49, then I sat in his chair. I didn't follow or succeed him, I just sat in his chair. He was so gracious and kind. Probably the best word is that he was a gentleman, and it came across. He just cared for people. He loved baseball. He was such a nice guy, so you can understand why the people of Detroit just loved him."
Marty Brennaman (HOF Reds Broadcaster) - "Ernie Harwell, it goes without saying, was one of the greatest in the history of our profession. More important than that, however, he was one of the finest people I've ever known. I was privileged to call Ernie my friend. I will miss him greatly."
Sparky Anderson (HOF Manager) - "The thing that separates Ernie from so many others in the game is that he's never changed in all those years. He always has a pleasant word to say. He always cares about the other guy more than he cares about himself. That's the difference. He's not only a pro, he's a real human being who makes life a little better for all those around him."
After the jump: Niners Extend Willis, Thunder Extend Brooks, Suns Going Latino for Cinco de Mayo, Team USA basketball adds four, Forrest Griffin Out of UFC 114, Gordon Hayward's Decision Coming, and Wagner Calls it a Career.
The San Francisco 49ershave agreed with LB Patrick Willis on a five-year contract extension worth $50 million. Willis, who had two years still remaining on his current deal, will now lead the 49ers defense through the 2016 season. The two-time all-pro had 152 tackles and 3 INTs last season.
Thunder Extend Brooks Another Season
All Scott Brooks did this season was lead the biggest turnaround in NBA history. The Oklahoma City Thunder increased their win total from 23 games in 2008-09 to 50 in 2009-10. The effort earned him Coach of the Year honors and now another year on his contract. Brooks was under contract through next season, but GM Sam Presti felt exercising a team option for another year was well deserved.
Suns Plan to Wear "Los Suns" on Cinco de Mayo
The Phoenix Suns will wear "Los Suns" on the front of their jersey for Game 2 of their Western Conference Semifinals series Wednesday. Team Owner Robert Sarver said the gesture is meant to "honor our Latino community and the diversity of our league, the state of Arizona, and our nation." Wednesday happens to be Cinco de Mayo, or 5th of May, a traditional Latino holiday which prompted the decision to wear the alternate uniforms.
The USA basketball team added some depth, and youth to its roster Tuesday. Tayshaun Prince, Jeff Green, plus rookies Tyreke Evans and Stephen Curry were added to the squad for 2010-12. The team also announced it will hold training camp in LasVegas from July 19-23, with an intrasquad scrimmage at the Thomas & Mack Center July 24.
Forest Griffin Forced Out of May 29th Fight
Former UFC champion Forrest Griffin has been forced to withdraw from UFC 114 after injuring his shoulder during training. Griffin was set to face Antonio Rogerio Nogueira as the co-main event along with the grudge match between "Sugar" Rashad Evans and Quinton "Rampage" Jackson. He was coming off a promising split decision win over Tito Ortiz that followed two straight losses. No replacement has been announced.
Hayward Decision Expected Friday
Butler star Gordon Hayward will announce on Friday whether or not he's staying in the NBA Draft. His father says no decision has been made yet, but the Indianapolis Star reports that he's leaning toward leaving school. Chad Ford has him ranked as the 17th best prospect in the Draft.
Wagner to Close Out Career This Season
Billy Wagner will pass on his $6.5 million option for next season and retire after this one. He's notified the Braves of his plans so that they can make plans for life without him. "I think when I was home with the kids I just enjoyed it, probably too much," Wagner said. "It's where I want to be." He's sixth all-time with 387 career saves, including two this season.