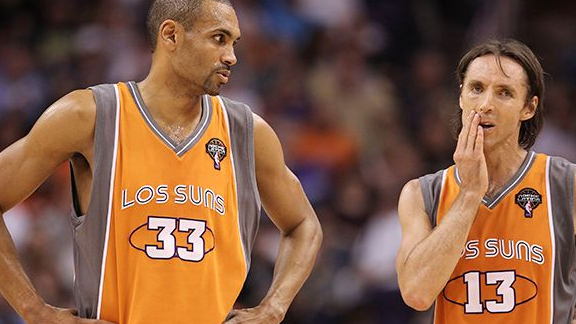 CAN'T SHAKE THE DEVIL'S HAND AND SAY YOU'RE ONLY KIDDING
It won't be the Spurs and the Suns that clash tonight in Game 2 of their series (9:00 ET). Instead, it will be the Spurs and los Suns. The team from Phoenix has decided to protest Arizona's controversial new immigration law by wearing the uniforms originally designed for the league's Noche Latina campaign. (Except that "sun" in Spanish is "sol". But they probably didn't want to confuse fans with a dated WNBA reference.) Happy Cinco de Mayo.
Suns Take a Stand | Remembering the Miami Sol | Your Racist Friend
More from The Rundown, including No Show Joe showing up for the Sharks, and the Annihilation at Amway, after the jump.
AND WAS EVERYBODY DANCING ON THE CASKET?
The Red Wings sure looked like they were in great shape (see: two-goal leads in the first and third periods). And Joe Thornton sure looked like "No Show Joe" for the Sharks. Until he scored an unassisted goal to start a third period rally. Until he assisted on Patrick Marleau's second career overtime goal. And suddenly, the Sharks have taken a 3-0 bite out of the series.
Among the reasons why you might just be right in thinking that the series might just be over: The Red Wings have been down 3-0 in a series 9 previous times and have been swept 8 times, including in each of the last 7 times. And only two teams in Stanley Cup Playoff history have ever come back to win a series after being down 3-0. Raise your hand if you remember the 1942 Maple Leafs and 1975 Islanders.
Recap | Highlights | Dead
43 < 47, 58
Um, the Magic spanked the Hawks by 43 in Game 1. Sure, Orlando took 8 days off before winning their 11th straight, but by 43? In the second round of the playoffs? And it's not even their largest-ever playoff win! They beat the Celtics by 47 in 1995! And it's not even the Hawks' largest-ever playoff loss! They lost to the Lakers by 58 in 1956! (That's a lot of exclamation points!)