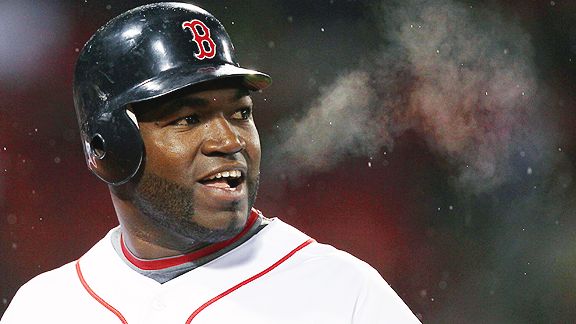 AP Photo/Winslow Townson
Ortiz To DH Tonight For Red Sox
Manager Terry Francona insisted again that the Red Sox are not giving up on struggling designated hitter David Ortiz. Francona told radio station WEEI that Ortiz would DH Wednesday night against the Angels with right-hander Joel Pineiro pitching. In his career, Ortiz is batting .391 (9 for 29) with two home runs, 11 RBIs and a 1.265 OPS against Pineiro. "David needs to play tonight," Francona said. "We gotta give David chances where we think he can succeed, to put some good swings on the ball." Ortiz is hitting .149. On Tuesday, he struck out twice, hit into two double plays, and left seven men on base.

Virginia Lax Teams Continue Playing
The seasons will continue in Yeardley Love's honor. Virginia Athletic Director Craig Littlepage says the school's mens and womens lacrosse teams will play in the NCAA Tournament in honor of the 22-year-old student-athlete who was found dead in her apartment Monday morning. 22-year-old men's player George Huguely has been charged with first-degree murder in Love's death. The field for both the men's and women's NCAA Lacrosse Tournament will be announced Sunday. Both Cavalier teams are considered national title contenders. The Virginia men are currently ranked first nationally. The women are ranked fifth.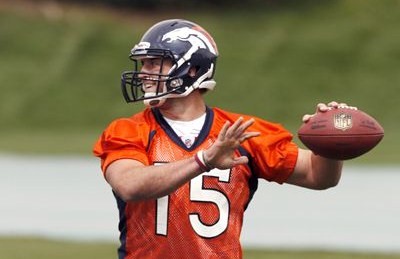 AP Photo/David Zalubowski
Tim Tebow has already made an impact on the NFL. He's No. 1 in jersey sales. His Denver Broncos No. 15 was by far the most popular on the NFL's website for April. Time will tell regarding his on-the-field impact. April's No. 2 seller is an old quarterback on a new team ... the Washington Redskins jersey of Donovan McNabb. And jumping into the rankings at No. 12 is his replacement with the Philadelphia Eagles ... Kevin Kolb. Meanwhile, suspended Pittsburgh Steelers quarterback Ben Roethlisberger dropped out of the top 25 for April after ranking 11th in jersey sales for the year ending March 31.
The Associated Press contributed to this report.