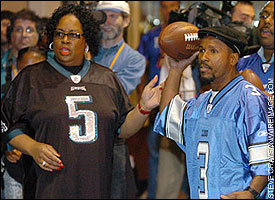 Wilma McNabb's going to need a new jersey.
It's Mother's Day, and you know what that means. No, not lots and lots of Mother's Day giveaways and promotions at Major League ballparks (although today women 15 and older going to the Phillies game will get 20 by 60 inch Phillies' scarves in Honor of Motrin IB Mother's Appreciation Day and Texas Ranger fans will get a JCPenney Mother's Day Reusable Bag). It means it's time for us to present our first annual list of totally rockin' sports moms. So, without further ado, here it is.
Olivia Manning — The Mother of all NFL Quarterbacks
Olivia must have done something right as a mom to raise two NFL quarterbacks (though we realize that having Archie Manning as a dad couldn't have hurt). And, if this little snippet of the Manning family touring ESPN's studios any indication, we get the impression that Olivia's job was not an easy one. Mrs. Manning also gets bonus points for attending all her sons' games growing up, but never playing the role of overbearing parent. "We let the coaches do their job, we were just there to support the kids," she said in an interview. Looks like the strategy worked.
Wilma McNabb — Trailblazer in Mom Endorsement Deals
Wilma's nickname is "Chunky Mom," which is seemingly unavoidable when you became famous for serving your NFL quarterback son, Donovan McNabb, and his teammates, and the entire city of Philadelphia, Campbell's Chunky Soup. And it's a small price to pay for said fame. When the Eagles went to the Super Bowl in February of 2005, Wilma was more in demand than Donovan, and appeared on "Jimmy Kimmel Live," "Ellen," CBS's "Early Show" and "NFL Total Access." Will workers in the streets of Washington, D.C. be treated to a hot bowl from Wilma? Time will tell.
Dara Torres — The Mom With The Killer Abs
The 43-year-old Torres isn't just a mom to her daughter, Tessa, she was an honorary mom to Olympic swimmers like Michael Phelps, who took to calling her "mom" at the Beijing Olympics. Torres, a five-time Olympian, returned to Olympic form after having her daughter and won two silver medals in the 2008 Games. And what might be even more impressive? Torres' ability to fit in her famous workouts along with all her motherhood duties. And it looks like they've totally paid off (note her abs at the 2:20 mark). As you see from the video, Torres HASN'T totally ruled out competing in the 2012 Games, but she HAS ruled out competing against her daughter, Tessa.
Debbie Phelps — Olympic Gold Medal Holder Mom
All mother's of Olympians sacrifice for their kids — and we know this is true because all the commercials during the Vancouver Games told us so — but only one mom has actually been officially named THE Johnson's Baby Mom of the Olympics, and that would be none other than Debbie Phelps, mom of Michael Phelps. So, there's not really much more we can add to that.
Somethingroyal — Oat-Eating Mom
Who says all great sporting moms have to be human? Not us, and we're making the list. You might know Somethingroyal as the mom - or, in horse speak, dam – of Triple Crown winner Secretariat, but did you know Somethingroyal, who died in 1983 at the age of 31, was the mom of FOUR stakes winners? Along with Secretariat, there was Sir Gaylord, First Family, and Syrian Sea. She also mothered – or, um, damed? – five horses who placed in stakes: Somethingfabulous, Grand Coulee, Mostar, Capital Asset and Cherryvill. Mrs. Manning doesn't look so impressive now, does she? (OK, she still does).