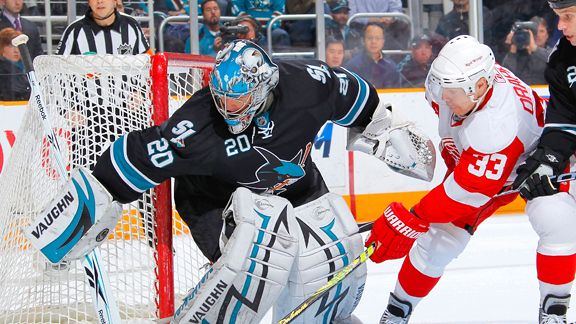 Don Smith/Getty Images
San Jose Sharks vs Detroit Red Wings -- Game 4 -- (Sharks lead 3-0)
7:30 PM ET, May 6, 2010 -- Joe Louis Arena, Detroit, Michigan
The Detroit Red Wings are looking to become just the third team in NHL history to win a series when trailing 3-0. Meanwhile, the Sharks want no part in that history lesson, as they hope to close out the series and advance to the Conference Finals for the second time in franchise history. San Jose has taken control of this series thanks in large part to Evgeni Nabokov and the ability to overcome late-game deficits the last two games.
Game Preview: Sharks vs Red Wings
Pittsburgh Penguins vs Montreal Canadiens -- Game 4 -- (Penguins lead 2-1)
7:00 PM ET, May 6, 2010 -- Bell Centre, Montreal, Quebec, Canada -- Versus
Montreal took the home-ice advantage from the Penguins in Game 2, only to give it back in Game 3. The Canadiens have struggled on home ice, losing seven of their last eight home playoff games. Playoff hockey teams typically go as far as their goalies will take them. In the case of the Penguins, they're hoping to go a long way with their guy between the pipes. Marc-Andre Fleury is 17-12 in 29 career road playoff games. Only four goaltenders in NHL history won at least 18 of their first 30 decisions on the road in the postseason, tonight Fleury could make it five.
Game Preview: Penguins vs Canadiens
Atlanta Hawks vs Orlando Magic -- Game 2 -- (Magic lead 1-0)
8:00 PM ET, May 6, 2010 -- Amway Arena, Orlando, FL -- ESPN, ESPN3
The Orlando Magic continued their recent playoff domination Tuesday with a 43-point blowout win over the Hawks. The Magic don't like losing, especially at home, winning their last 11 games. Stan Van Gundy's crew hasn't lost at home since March 14 against Charlotte. Meanwhile, the Hawks are struggling in the playoffs on the road. The Hawks are winless in 18 of their last 20 road-playoff games. Home teams winning the first two games of a best-of-seven series go on to win the series 94.4% of the time. Jameer Nelson is a key reason for the Magic's success. Nelson is averaging 22.8 ppg in the postseason, compared to 12.8 ppg during the regular season.
Game Preview: Hawks vs Magic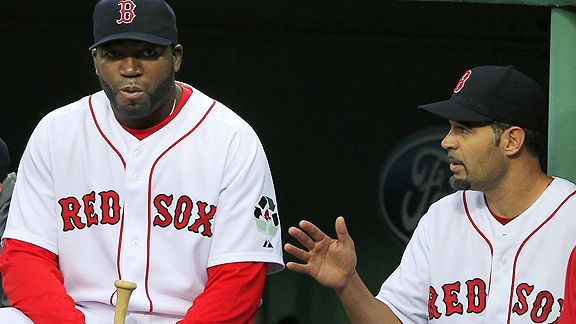 AP Photo/Charles Krupa
Los Angeles Angels (12-17) vs Boston Red Sox (14-14)
7:10 PM ET, May 6, 2010 -- Fenway Park, Boston, Massachusetts
Los Angeles: Kazmir (2-1, 5.57 ERA)
Boston: Matsuzaka (0-1, 11.57 ERA)
The Boston Red Sox are hoping Daisuke Matsuzaka (0-1, 11.57), redeems his last outing, leading to a series-sweep of the Angels. Dice-K gave up seven runs and seven hits in 4 2/3 innings of a 12-9 loss to Baltimore Saturday night. In his 1,001st game, Red Sox manager Terry Francona will choose to start either Mike Lowell over David Ortiz at 1B against left-hander Scott Kazmir. Big Papi is batting .205 (9 for 44) with 2 HRs against Kazmir, while Lowell has hit the most long-balls against Kazmir than any other player, four. The Angels, who have lost six straight, haven't lost seven in a row since 2001.
Game Preview: Angels vs Red Sox
Note: The Elias Sports Bureau and ESPN Stats and Information group contributed to this report.