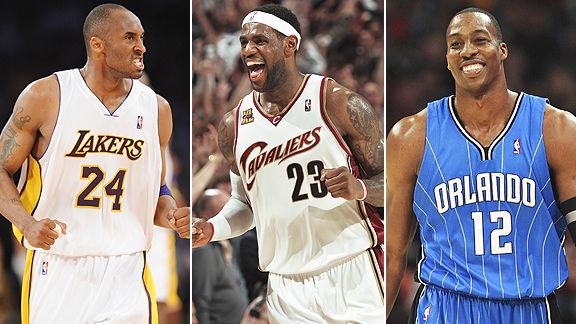 Getty Images/US Presswire
ALL NBA TEAM:
LeBron James of the Cleveland Cavaliers, the 2009-10 Most Valuable Player, and Dwight Howard of the Orlando Magic, the 2009-10 NBA Defensive Player of the Year, were unanimous selections to the 2009-10 All-NBA First Team, the NBA announced today. Joining James and Howard on the First Team are Kobe Bryant of the Los Angeles Lakers, Kevin Durant of the Oklahoma City Thunder, and Dwyane Wade of the Miami Heat. Durant is the only first time member of this prestigious squad. 2009-10 All-NBA Teams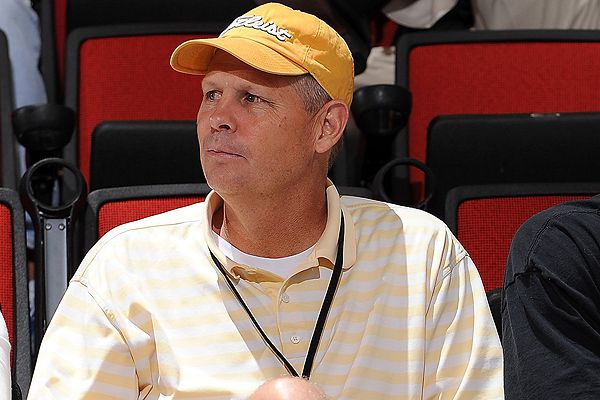 Garrett W. Ellwood/Getty Images
Ainge Fined $25,000:
Boston Celtics general manager, Danny Ainge has been fined $25,000 by the NBA for tossing a towel in the air while Cavaliers forward J.J Hickson attempted a free throw. In the third quarter of Monday night's playoff game Ainge did his best to try and distract Hickson, but the 25,000 towel was rendered useless as Dixon nailed the free throw. Stu Jackson, the league's executive vice president of basketball operations said the towel toss fine was "an unauthorized distraction and for conduct detrimental to the game." Game three of this series is Friday night.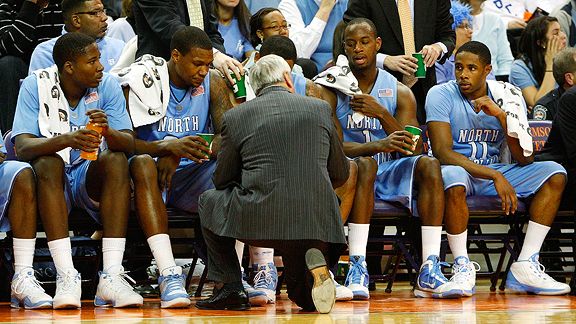 Kevin C. Cox/Getty Images
WEAR BROTHERS TRANSFERING:
Two of UNC's up and coming stars , David Wear and Travis Wear are transferring from North Carolina it was announced by Head Coach Roy Williams today. The transfer came as quite a shock to Williams: "their father called me last night and asked for their release". Williams says he met with both kids at the end of the season and talked about next year. "Both David and Travis seemed to be excited about their futures at North Carolina." A transfer school for the Wear's is not yet known.