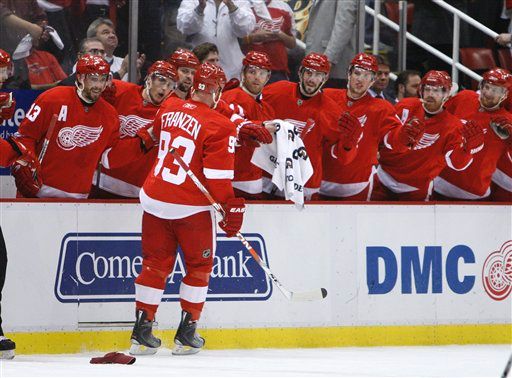 The Red Wings Johan Franzen is congratulated after scoring one of his four goals against the Sharks in their 7-1 win. San Jose leads the series 3-1. AP Photo/Carlos Osorio
Lawrence Taylor Accused Of Raping Girl, 16
Police in Suffern, NY have charged former NY Giants linebacker Lawrence Taylor with third-degree rape of a 16-year-old girl. The Pro Football Hall of Famer has also been charged with patronizing a prostitute in the incident where a 16-year-old runaway was brought to his suburban New York City hotel room. Ramapo Chief of Police Peter Brower says Taylor paid the girl $300. He wouldn't comment on whether Taylor knew how young she was, but he said, "Ignorance is not an excuse to an individual's age."
JaMarcus Russell Done As A Raider
The Oakland Raiders have released former No. 1 overall draft pick JaMarcus Russell after three unproductive and highly paid seasons. Raiders senior executive John Herrera told The Associated Press the move was made Thursday and that "we wish him well." The decision comes less than two weeks after Oakland acquired Jason Campbell from Washington to take over at quarterback. Russell has been paid more than $39 million by the Raiders while posting only 7 wins as a starter.
After the jump ... LeBron's elbow better, Tiger 4 shots back, Ainge fined $25k, All NBA Team, Pacman's new team, Manny close to returning, Carolina loses 2 and Robin Roberts passes away.
LeBron Takes Part In Full Practice
Cavaliers star LeBron James says a few day's rest and treatment has helped his injured right elbow. James, who has been bothered by a sprain and bone bruise, went through practice Thursday without feeling any pain. He participated in all contact drills. James said doctors have told him the injury will likely bother him throughout the postseason and it will only fully heal with rest in the off-season. James said he has had only had one MRI on his elbow and that a second one is not scheduled.
During the opening round of the TPC Sawgrass, J.B. Holmes played bogey-free for a 6-under 66 and was tied for the lead with Robert Allenby. They were a stroke ahead of eight players, including Lee Westwood. Tiger Woods survived a rugged start and made his only bogey on the final hole for a 2-under 70.
Boston Celtics general manager, Danny Ainge has been fined $25,000 by the NBA for tossing a towel in the air while Cavaliers forward J.J. Hickson attempted a free throw. In the third quarter of Monday night's playoff game Ainge did his best to try and distract Hickson, but the $25,000 towel was rendered useless as Dixon nailed the free throw. Stu Jackson, the league's executive vice president of basketball operations said the towel toss fine was "an unauthorized distraction and for conduct detrimental to the game." Game three of the series is Friday night.
LeBron James of the Cleveland Cavaliers, the 2009-10 Most Valuable Player, and Dwight Howard of the Orlando Magic, the 2009-10 NBA Defensive Player of the Year, were unanimous selections to the 2009-10 All-NBA First Team. Joining James and Howard on the First Team are Kobe Bryant of the Los Angeles Lakers, Kevin Durant of the Oklahoma City Thunder, and Dwyane Wade of the Miami Heat. Durant is the only first time member of this prestigious squad.
Adam "Pacman" Jones Signs With Bengals
The Cincinnati Bengals reached a two-year deal with cornerback Adam "Pacman" Jones. Jones had a workout with the Bengals earlier this week, his second workout with the team. In much better shape this time, Jones convinced the Bengals coaches and ownership to give him a chance to resurrect the deal. Jones will reportedly sign the two-year deal on Monday.
Hall of Fame pitcher Robin Roberts has died. The greatest right-hander in Phillies history died Thursday morning in his Florida home of natural causes. He was 83 years old. Roberts pitched 19 years in the big leagues, spending the first 14 with the Phillies. He won 286 games and remained a diehard Phillies fan, never missing a game on TV including last night's contest against the Cardinals.
Manny Ramirez is expected back in the Dodgers dugout Saturday against the Rockies, according to the LA Times. Ramirez was placed on the 15-day DL April 23 with a strained right calf. The 37-year-old left-fielder will play another game for the Inland Empire 66ers, the Dodgers' Class-A affiliate as a final tune-up.
Wear Brothers To Transfer From Carolina
Two of UNC's up and coming stars, David Wear and Travis Wear are transferring from North Carolina according to head coach Roy Williams. The transfer came as quite a shock to Williams: "Their father called me last night and asked for their release". Williams says he met with both kids at the end of the season and talked about next year. "Both David and Travis seemed to be excited about their futures at North Carolina." A transfer school for the Wears' is not yet known.