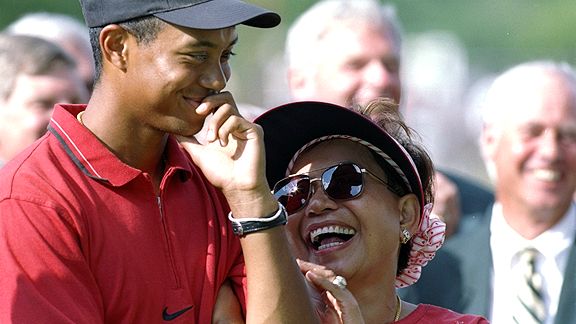 Andy Lyons/Getty Images
"Thank you, Tiger. The pencil-drawn sketch of Phil Mickelson is exactly what I wanted."
There are a lot of great sporting events on TV this weekend but there's one really important thing that you just can't forget: Sunday is Mother's Day. Seriously, you must remember this. Your mom will be none too happy if you don't. At the very least, you can give your mom a call on Sunday. But if you really want to make the most of this weekend, then here are some last-minute gifts related to the sports you'll be watching. And yes, you can tell your mom that SportsCenter says, "You're welcome."
Friday, May 7th
Cavaliers at Celtics, 7 (ET)
Lebron's elbow and the Cleveland Cavaliers roll into Boston Friday night with their series tied at 1-1 to face the Celtics in Game 3 of the Eastern Conference Semifinals. Although Marquis Daniels' jeweled head piece is probably not available, moms in the Boston area will happily settle for a 14kt Gold Kevin Garnett Jersey Pendant.
Bruins at Flyers, 7 (ET)
Boston finds itself in the Eastern Conference Semifinals on the ice as well, this time with a commanding 3-0 series lead over the Philadelphia Flyers. Flyers' moms are going to need flowers this weekend, maybe for condolences if the Bruins close out the series and definitely for Mother's Day, so a Flyers Flower Vase feels like the perfect gift.
Saturday, May 8th
Lakers at Utah, 8 (ET)
Go ahead and mark your calendars for Saturday night's matchup between the Lakers and the Jazz in Game 3 of the Western Conference Semifinals, with the Lakers up 2-0. Since it's Mother's Day weekend, you might as well mark your mom's calendar as well. What, your mom doesn't have a calendar? How is she going to remember her children's birthdays. Once again, the Laker Girls are to the rescue. Is there anything they can't do?
UFC 113: Machida vs. Shogun 2, 9 (ET)
This weekend more than any other time, moms love to be pampered - light a few candles, put on some soft music, relax in their pajamas, and scream bloody-murder as Machida and Shogun trade brutal strikes in their mutual quest for physical dominance. Ok, maybe not that last part, but you get the idea. And though UFC 113 may not be "relaxing," that's no excuse for your mom to be uncomfortable while she's shadow boxing in front of the TV. A nice, roomy Purple UFC Velour Suit should do the trick.
Sunday, May 9th
Final Round of The Players Championship, 2 (ET)
If you ask any mom what her three favorite things in the world are, she will say her children, her minivan, and Phil Mickelson. Really, moms love Philly. He's like the left-handed golfing son they never had, but always hoped they would. Why not capture your mom's adoration for someone other than yourself in a pencil-drawn sketch of Phil. On the bright side, at least it's cheaper than therapy.
Yankees at Red Sox, 8 (ET)
Once you've finished "cooking" your mom a lovely dinner of grilled cheese and spaghetti then allowed your dog to do the dishes, it's time to turn on Sunday Night Baseball. Watch the Yankees take on the Red Sox in Fenway Park. But don't get too cozy, Mother's Day isn't quite over yet. We suggest following dinner with a dessert of Boston Red Sox M&M's. Mom's love chocolate and M&M's are easy to throw at the TV every time A-Rod bats - so this should be a win-win across New England.