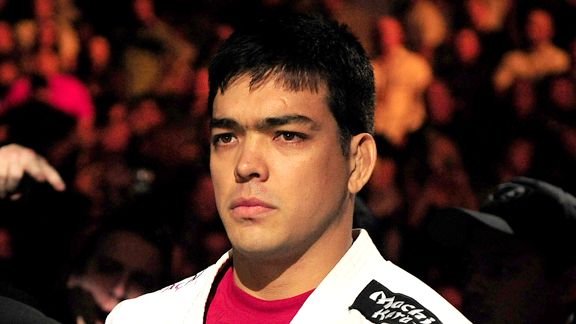 Mark J. Rebilas/US Presswire
Lyoto Machida may look like Ryu, but we'll find out tonight if he's mastered the "Hadouken."
Mere seconds after the decision was read at UFC 104, the entire MMA community was chomping at the bit for Machida versus Rua Part II. While MMA rematches may not always deliver (we're looking at you Ortiz versus Shamrock 2 and your kissing cousin Ortiz versus Shamrock 3), this one has all the makings of a classic. UFC 113 will close out their night with the highly anticipated rematch of Lyoto 'The Dragon" Machida and Mauricio "Shogun" Rua squaring off for the Light Heavyweight Championship.
Machida arrived on American shores just over three years ago with an unorthodox style, brilliant game plans, mystical training methods, and an uncanny resemblance to a legendary Street Fighter. He's become UFC's unanswerable riddle, and anyone who's entered the Octagon in an attempt to solve it finds himself added to Lyoto's extensive KO highlight reel. After dismantling former champ Rashad Evans to improve The Dragon's record to 15-0, announcer Joe Rogan summed it up nicely: "Welcome to the Machida era."
Enter Shogun, who came along and quickly offered a counter-argument to the title of MMA's best fighter. With a flurry of leg kicks that turned Machida's legs black-and-blue, Shogun seemed well on his way to deciphering the "Portuguese Puzzle Box" as the two went the distance. However, as the old maxim goes: Never leave a decision in the hands of judges. In one of UFC's more controversial decisions, Machida was declared the victor in the eyes of three ringside judges (and to the horrors of everyone else). Saturday night will go a long way in the redemption department.
From redemption comes contention as UFC 113 adds in a welterweight match to determine the next usurper to Georges St-Pierre's throne. Brit slugger Paul "Semtex" Daley has already thrown the first blow to opponent Josh Koscheck through psychological tactics, starting with the nickname of Fraggle Rock and escalating to outright trolling. Daley asked fans to post photoshopped images of Kosheck to online forums with the winning picture presented to his rival at the weigh-in (here's the close up). Surprisingly, Koscheck has kept poised and focused, perhaps believing his best strategy is to exploit Englishman by putting him on his back and neatly pound him into a meat pie. But if he takes Daley's bait and chooses to stand toe-to-toe, a strategy he's stated this past week, the NCAA champion wrestler may be thrown back down the challenger's mountain.
To round out the card, YouTube sensation and backyard brawler Kimbo Slice will look to legitimize himself yet again – and really for the rest of his career. This time he's up against fellow The Ultimate Fighter alumni Matt Mitrione. It should be noted, with LaDainian Tomlinson's departure to New York, there's no word on whether Slice has continued to work out with the former Chargers running back. He has however worked closely with the highly regarded American Top Team, Florida's largest MMA academy. But Mitrione is no slouch. He played two seasons with the Vikings and Giants before leaving the gridiron for the cage. Both men are bulging buckets of fast twitching muscles and will not hesitate to throw leather in the grand tradition of prolonging their careers by ending other ones.
For UFC 113, expect some punching, a little bit of kicking, and a lot of pent up emotions expressed in the next best thing to a Pedro-Zimmer scuffle. The festivities begin Saturday at 10 (ET).